ANNETTES BEETROOT CHUTNEY
Posted On: 2017-12-06 14:43:06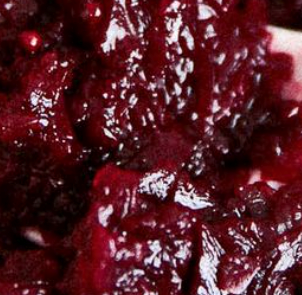 INGREDIENTS:
1 kg Beetroot (grated)
1kg Sugar
2 teaspoons Ground Allspice
4 teaspoons Yellow Mustard Seeds
3/4 kg Onions (finely chopped)
2 Granny Smith apples (grated)
2 teaspoons salt
2 cups Vinegar
1 cup Malt Vinegar
DIRECTIONS:
Place all ingredients in saucepan.
Bring to boil, stirring until all sugar is dissolved.
Simmer for approximatly 3/4 of an hour.
If too runny, thicken with small quantity of flour & vinegar (mixed to a paste)
Seal in sterillised jars, & allow to cool.
No Comments Found!