Sale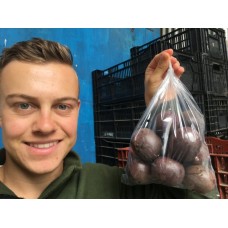 zoom
Price:
$6.50
$6.00
Ex Tax: $5.22

0 reviews
Write a review
Cut fruit in half, use a teaspoon, scoop out the pulp & enjoy with icecream
Passionfruit are a great source of dietary fibre.
Passionfruit grow on climbing vines that sprout tendrils that cling to any support.
Passionfruit vines generally live only 5-7 years.
Great in a fruit salad - adds a crunch to the texture
Botanically, passionfruit are a berry.

Japanese scientist say a compound called piceatannol, found in large quantities in passionfruit seeds, promotes the collagen synthesis that's crucial for healthy skin.
Earlier this year, piceatannol was also lauded for its potential to promote weight loss by interfering with fat-cell development.
Passionfruit is a very good source of Vitamin C, useful source of vitamin A & niacin with riboflavin.
An excellent source of dietary fibre low in sodium & no fat.

A native of southern Brazil, Passiflora edulis gained its English name thanks to the habit of Jesuit missionaries using its striking flowers to illustrate the crucifixion.
New Zealand's first commercial plantings were in Kerikeri in 1927. But today it is mostly cultivated in the Bay of Plenty, where the purple variety is the only type grown commercially, though there is a yellow version too.
Passionfruit grows on an evergreen vine & the fruit turns from green to purple as it ripes.

They are ready when they fall to the ground, but taste best when left to wrinkle for a few days.

The season is at its peak in April-May.
It is delicious in puddings, used as a topping for cheesecakes & pavlova, & in icings for cakes. It can be made into a syrup by heating equal quantities of sugar & water & around half that of passionfruit pulp until the sugar has dissolved.
Use it to pour over icecream or seasonal fruit.
Nutrition Information
Serving size: 2 passionfruit - 36g
| | Avg Quantity per serving | Avg Quantity per 100g |
| --- | --- | --- |
| Energy (kJ/Cal) | 68/16 | 188/45 |
| Protein (g) | 1.0 | 2.8 |
| Fat, total (g) | 0.18 | 0.5 |
| - saturated (g) | 0 | 0 |
| carbohydrate (g) | 2.7 | 7.4 |
| - sugars (g) | 2.7 | 7.4 |
| Fibre (g) | 1.2 | 3.3 |
| Sodium (mg) | 10.1 | 28 |
| Vitamin C (mg) | 7.2 | 20 |
Source: The Concise New Zealand Food Composition Tables, 8th Edition, Plant & Food Research
Write a review
Note:
HTML is not translated!