Sale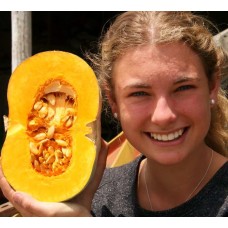 zoom
Price:
$2.90
$2.50
Ex Tax: $2.17
Product Code:
VPumpkinHALF
Availability:
In Stock
0 reviews
Write a review
The brighter & stronger the colour of the flesh, the healthier it will be for you.
It is one of the very low calorie vegetables. 100g provides just 26 calories & contains no saturated fats or cholesterol; however, it is rich in dietary fibre, anti-oxidants, minerals, vitamins.
The pumpkin is one of the food items recommended by dietitians in cholesterol controlling & weight reduction programs.
Pumpkin is a storehouse of many anti-oxidant vitamins such as vitamin-A, vitamin-C & vitamin-E.
Pumpkins are a hybrid variety

There is no reason to force yourself to eat an entire pumpkin at one sitting... when frozen in a freezer proof container, pumpkin retains virtually all its goodness & nutrition
Store Pumpkins at 12-14 degrees Celcius with an 85% relative humidity.
TRY THESE IDEAS WITH PUMPKIN:
Roasted in olive oil & chopped parsley, sage & rosemary

Soup with diced chilli & chopped mint

Baked wedges topped with blue cheese & roasted pinenuts

Boiled & mashed with white miso & lime zest

Diced, roasted in salads with green leaves & feta with a lime, ginger, garlic & coriander dressing

Sliced, baked & used in a panini with spinach & swiss cheese

Mini varieties stuffed with diced vegetables, baked topped with mozzerella

Boiled & mashed with orange juice, yogurt & freshly ground pepper.

Diced for pastas & risottos

Steamed & mashed with Onion Marmalade & ground cinnamon

Wedges roasted with potatoes, kumara, carrots, turnips & swedes for roast meals

Baked & mashed in pies, muffins, cakes, breads & loafs
Pumpkins like warm & spicy flavours, so that means more cumin, coriander, ginger, nutmeg, paprika, allspice, curry spices, cinnamon & herbs: basil, thyme, rosemary, sage, parsley.
---
Click Here:
Nutrition Information
Serving size: ½ cup - 114g
Average
Quantity
per serving
% Daily
intake per
serve
Average
Quantity
per 100g
Energy (kJ/Cal)
240/58
3%
211/50
Protein (g)
1.6
3%
1.4
Fat, total (g)
0.5
0.7%
0.4
- saturated (g)
0.2
0.8%
0.2
Carbohydrate (g)
10.4
3%
9.1
- sugars (g)
7.0
8%
6.1
Dietary fibre (g)
2.5
8%
2.2
Contains dietary fibre
Sodium (mg)
3
0.1%
3
Vitamin A Equiv. (µg)
604
81% RDI*
530
A good source of vitamin A Equiv.
Vitamin C (mg)
21.7
54% RDI*
19.0
A good source of vitamin C
Vitamin E (mg)
1.3
13% RDI*
1.1
A source of vitamin E
Potassium
479
420
Contains potassium

Percentage Daily Intakes are based on an average adult diet of 8700 kJ
Your daily Intakes may be higher or lower depending on your energy needs.
*Recommended Dietary Intake (Average Adult)

Source: The Concise New Zealand Food Composition Tables, 10th Edition, Plant & Food Research - 2014
Write a review
Note:
HTML is not translated!