Sale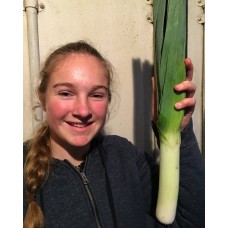 zoom
Price:
$2.50
$2.20
Ex Tax: $1.91
0 reviews
Write a review
Traditionally they are served with white or cheese sauce.
Can be microwaved, boiled, steamed or stir-fried.
Refrigerate in plastic bags.
Leeks belong to the onion family, look a bit like a huge spring onion & have a mild onion flavour.
Chopped leeks are good in potato gratins & soups when the weather calls for something hearty
Leeks are thought of as a winter vegetable
Leeks are great braised slowly... cut into fairly thin slices & braise in butter for about twenty minutes to unleash the sweetness... keep the heat low & do not brown

The Leek is thought to have originated from an Eastern variety of garlic.

The Romans thought that eating Leeks would make your speaking voice more imposing.

The emperor Nero ate a soup made of them every day as a result.
Leeks can reduce the chances of developing various inflammatory disorders including type 2 diabetes, atherosclerosis & rheumatoid arthritis.
Click Here:
Leek Recipes
Nutrition Information
Serving size: ½ cup sliced - 69g
Average
Quantity
per serving
% Daily
intake per
serve
Average
Quantity
per 100g
Energy (kJ/Cal)
98/23
1%
142/34
Protein (g)
1.2
2%
1.8
Fat, total (g)
0.2
0.3%
0.3
- saturated (g)
trace
0%
trace
Carbohydrate (g)
3.2
1%
4.6
- sugars (g)
3.2
4%
4.6
Dietary fibre (g)
2.0
6%
2.9
Contains dietary fibre
Sodium (mg)
4
0.2%
6
Vitamin C (mg)
10.4
26% RDI*
15
A good source of vitamin C
Iron (mg)
1.4
12% RDI*
2
A source of iron
Folate (µg)
17
8% RDI*
24
Vitamin B6 (mg)
0.1
6% RDI*
0.15
Calcium (mg)
42.1
5% RDI*
61
Potassium (mg)
193
280
Thiamin
trace
0% RDI*
trace

Percentage Daily Intakes are based on an average adult diet of 8700 kJ
Your daily Intakes may be higher or lower depending on your energy needs.
*Recommended Dietary Intake (Average Adult)

Source: The Concise New Zealand Food Composition Tables, 10th Edition, Plant & Food Research - 2014
Write a review
Note:
HTML is not translated!