Sale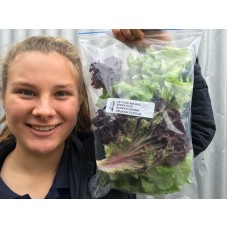 zoom
Price:
$5.20
$4.90
Ex Tax: $4.26
0 reviews
Write a review
Sweet tasting lettuce mix
Must be kept refridgerated
Store at 2-5 °C with a relative humidity of 95%
Refrigerate in plastic bags or store in the crisper
Lettuces are Ethylene sensitive - so store seperately from ethylene producing fruit & vegetables.
Make sure you serve a healthy dressing (e.g. made with olive oil) with your lettuce salad as this will help your body get the best health benefit.
Try these ideas:
Lettuce drizzled with nut oils or citrus juices.
Lettuce chopped, sauteed with sesame oil & drizzled with soya sauce
Lettuce leaves used as wraps.
Write a review
Note:
HTML is not translated!