Sale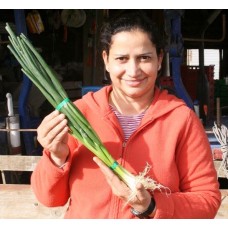 zoom
Price:
$2.20
$2.00
Ex Tax: $1.74
0 reviews
Write a review
Good for soups, salads, stir fry, lasagne & all types of savoury baking
Make sure you use the green part of spring onions as well as the white, for maximum health benefits.

Trim root end & dark green leaves, wash well, slice thinly or into short lengths.
Ways to eat... The entire onion, including the top, can be sliced & used raw in salads, as a garnish or cooked in stir fries.

Spring onions are often used in Oriental cooking.

Cut the green tops very finely & use like chives.

Spring onions can be used instead of onions in some recipes.
Spring Onions are used in fried rice or noodles, spicy thai soups, fritters, dumplings... by far the most common used herb

Spring onions are, higher in most nutrients than brown onions... full of vitamins A, C & K as well as iron, calcium & potassium.
Place spring onions in a cup of water in the fridge where they will keep for longer
Spring Onions add a great flavour kick to many meals either as a garnish or as an alternate to onions

Nutrition Information
Serving size: 1 spring onion - 18g
Average
Quantity
per serving
% Daily
intake per
serve
Average
Quantity
per 100g
Energy (kJ/Cal)
34/8
0.4%
189/45
Protein (g)
0.2
0.4%
0.9
Fat, total (g)
trace
0%
0.3
- saturated (g)
trace
0%
0.1
Carbohydrate (g)
1.5
0.5%
8.5
- sugars (g)
1.5
2%
8.3
Dietary fibre (g)
0.4
1%
2.2
Sodium (mg)
2
0.1%
13
Vitamin C (mg)
4.5
11% RDI*
25.0
A source of vitamin C
Folate (µg)
11.5
6% RDI*
64
Calcium (mg)
25.2
3% RDI*
140
Vitamin A Equiv. (µg)
17.6
2% RDI*
98
Niacin (mg)
0.18
2% RDI*
1
Iron (mg)
0.22
2% RDI*
1.2
Vitmina B6 (mg)
0.02
1% RDI*
0.1
Potassium (mg)
41
230
Riboflavin (mg)
trace
0% RDI*
trace

Percentage Daily Intakes are based on an average adult diet of 8700 kJ
Your daily Intakes may be higher or lower depending on your energy needs.
*Recommended Dietary Intake (Average Adult)

Source: The Concise New Zealand Food Composition Tables, 10th Edition, Plant & Food Research - 2014
Write a review
Note:
HTML is not translated!