Sale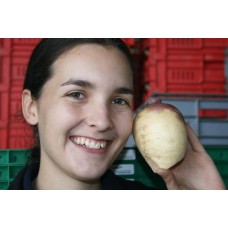 zoom
Price:
$2.00
$1.70
Ex Tax: $1.48
Product Code:
VSwedeONE
Availability:
In Stock
0 reviews
Write a review
Sweet nourishing vegetable when mashed with butter, roasted or added to stews & soups.
Swedes make a great addition to any winter meal
Usually cooked, try swedes raw (especially for kids... slice into cubes/strips) or shredded/grated raw into a salad... yummy!
Swedes have a delicate & sweet flavour, great texture & are very versatile.
As swede cooks, its colour deepens to an orange/yellow
Helps Blood & Respiratory Systems.
Direct from our favourite Ohakune swede grower.
Swedes belong to the same family as turnips & cabbages.
Refrigerate in plastic bags.
An average Swede, around 100 grams, adds just 100kJ to your meal & provides 2.8 grams of fibre.
Swede is a hybrid between a turnip & a type of cabbage which was developed in Sweden in the 17th century
Swedes are sweeter & drier than turnips & are purple-green at the top, cream at the bottom & yellowish inside
Swedes partner with nutmeg, parsley, coriander & black pepper
Mashed swede keeps & reheats very well, even after being stored in the fridge for a day or two
Nutrition Information
Serving size: ½ cup, chopped - 75g
Average
Quantity
per serving
% Daily
intake per
serve
Average
Quantity
per 100g
Energy (kJ/Cal)
77/18
0.9%
103/25
Protein (g)
0.7
1%
0.9
Fat, total (g)
0.08
0.1%
0.1
- saturated (g)
trace
0%
trace
Carbohydrate (g)
2.8
1%
3.7
- sugars (g)
2.6
3%
3.5
Dietary fibre (g)
2.1
7%
2.8
Contains dietary fibre
Sodium (mg)
9
0.4%
12
Vitamin C (mg)
12.8
32% RDI*
17.0
A good source of vitamin C
Niacin (mg)
0.75
8% RDI*
1
Vitamin B6 (mg)
0.09
6% RDI*
0.12
Folate (µg)
11.3
6% RDI*
15
Iron (mg)
0.3
3% RDI*
0.4

Percentage Daily Intakes are based on an average adult diet of 8700 kJ
Your daily Intakes may be higher or lower depending on your energy needs.
*Recommended Dietary Intake (Average Adult)

Source: The Concise New Zealand Food Composition Tables, 10th Edition, Plant & Food Research - 2014
Write a review
Note:
HTML is not translated!