Sale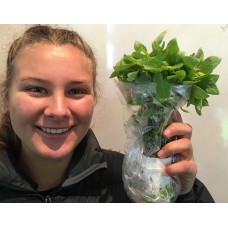 zoom
Price:
$5.00
$4.90
Ex Tax: $4.26

0 reviews
Write a review
Excellent in Green Curries & Salads
Great for a Dipping Sauce for Vietnamese Spring Rolls

Basil also provides vitamin A, which contains beta-carotenes, powerful antioxidants that protect the cells lining a number of numerous body structures, including the blood vessels, from free radical damage. This helps prevent cholesterol in blood from oxidizing, helping to prevent atherosclerosis, heart attacks, and stroke.
Other vitamins and minerals in basil include Vitamin K, iron, calcium, manganese, magnesium, vitamin C & potassium.
Basil is arguably one of the favourites among herbs because it has so many uses. Everything from soups to sandwiches can be made simply better with the addition of its fresh, pungent leaves.
Basil has been found to contain oils and flavonoids that protect the body from illness & infection.
Thai Basil is native to Southeast Asia.
It is commonly used in Thai red & green curry.
Thai Basil's flavour is more stable under high or extended cooking temperatures than that of sweet basil.
Thai Basil can be readily identified by its mauve flowers.
Direct from our Katikati grower
Write a review
Note:
HTML is not translated!