Sale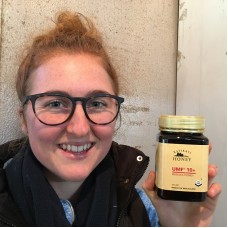 zoom
Price:
$42.00
$41.30
Ex Tax: $35.91
Brand:
Katikati Honey
Product Code:
GHoneyMANUKAUMF10+500
Availability:
In Stock

0 reviews
Write a review
Manuka is a common shrub native to New Zealand, it's also known as "Tea Tree" and has extremely high antibacterial properties.
Nectar collected from Manuka flowers yields a rich nourishing honey.

UMF Manuka honey carries with it the special gift of the bush in its potent antibacterial properties.
UMF identifies the small proportion of Manuka Honeys that contain the special unique activity affirmed.
For more info on UMF please visit www.umf.org.nz
100% pure NZ honey.
The darker the honey, the stronger the flavour.
Strong flavoured dark honey from the delicate flower of this forest fringes tree.
Write a review
Note:
HTML is not translated!