RHONDA'S RAWLICIOUS CUCUMBER SIDE SALAD
Posted On: 2015-01-22 10:19:07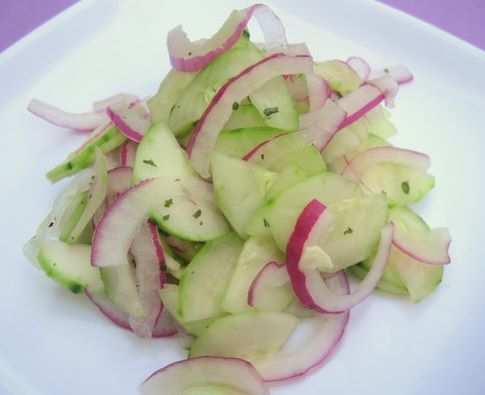 INGREDIENTS:

4 Cucumbers
1 small Red Onion
1/2 Cup Apple Cider Vinegar
2 Pinches Stevia (Sweetener)
2 Sprigs Thyme


DIRECTIONS:

Slice Cucumbers (about 1/4 inch thick) & add to a bowl.
Thinly slice a red onion & add to bowl.
Blend 1/2 cup of Apple Cider Vinegar, 1 clove of garlic, 2 sprigs of thyme (optional) & 2 pinches of stevia, until a smooth consistency.
Pour vinegar mixture over the ingredients in the bowl.
Toss & let sit overnight (It's good right away, but tastes even better when the ingredients hang out togerther for a while).
Always toss a bit before serving.

No Comments Found!