WHAMMY BANAMMY YAMS
Posted On: 2013-04-30 14:44:26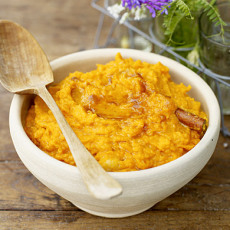 INGREDIENTS:
4 large yams
4 Tablespoons vegetable margarine
1 cup almond milk
2 teaspoons cinnamon
2 bananas, pureed
DIRECTIONS:
Preheat the oven to 350OF.
Wash then boil the yams.
Once tender, drain.
Add the margarine, milk & cinnamon.
Whip together then add the pureed bananas.
Pour into greased ramekins & bake for 20 minutes, or until browned.
No Comments Found!