LIBBIE'S LEMON TART
Posted On: 2017-12-03 10:06:01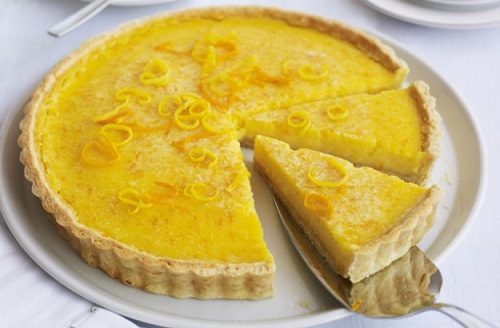 INGREDIENTS:
CRUST:
1 free range egg
3 Tablespoon coconut oil, melted
2 Tablespoon honey
1 teaspoon vanilla extract
1 1/2 cups almond flour
LEMON CURD:
2 free range eggs
1/3 cup manuka honey
1/2 cup lemon juice (about 3 large lemons)
zest of 2 lemons
1/3 cup coconut oil
INSTRUCTIONS:
Preheat oven to 180°C fan bake
Crust:
Mix egg, coconut oil, honey & vanilla extract in a bowl.
Sieve in the flour & stir until well combined.
Press into the base of a greased 23 cm tin & bake for 10 to 15 minutes, until browned.
Lemon Curd:
In a saucepan, medium heat, place the eggs, egg yolks, honey, lemon juice & lemon zest & whisk.
Add the coconut oil & whisk continously for 10-12 minutes on low heat, until thickined.
Pour into the crust, then place the tart into the fridge for one hour to set.
Serve with grated lemon zest over the top of the tart before cutting.
No Comments Found!