Sale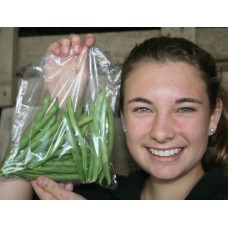 zoom
Price:
$4.90
$4.50
Ex Tax: $3.91
Product Code:
VBeansPUKEKOHE
Availability:
In Stock

0 reviews
Write a review
A straight, stringless, smooth, dark green bean with excellent freezing or processing qualities.
Green, round, sweet, tender, excellent quality.
To retain the maximum number of health-promoting vitamins & minerals found in green beans,try steaming them for just 5 minutes.

Alternatively, you can boil beans for 8 - 10 minutes.
This also brings out their peak flavour & provides the moisture necessary to make them tender, & retain their beautifully bright green color.

It is best to cook green beans whole to ensure even cooking.
Excellent cold, raw or blanched.
Beans are Brilliant in the pan, tossed with honey, mustard & Balsamic Vinegar OR mix with a walnut pesto for a textural delight.
Good in salads or used as crudites with a dipping sauce or serve as a side dish seasoned with citrus juice & olive oil.
Beans can be char grilled, roasted, steamed, boiled or stir fried until they lose their crunch.
Beans are an excellent source of vitamins A & C, especially if eaten raw
Beans contain the nutrient biotin which contributes to the function of the nervous system & normal brain function. Biotin helps maintain normal skin & mucous membranes & helps maintain normal hair.
Beans dipped in alioli for a fantastic snack or serve beans with a nice homemade tomato sauce as a side dish with you meal
Refridgerate in a plastic bag.
We never sell imported Beans from Australia ever.
Serving suggestions: Serve steamed green beans, with a little olive oil & ground nutmeg added; or grate fresh ginger & toss through cooked beans with some lemon or lime juice just before serving; or blanch beans in boiling, salted water for 1 minute, cool quickly under running cold water & add to salads.
Beans are high in soluble fibre, which reduces blood cholesterol levels.
There are many varieties of beans, most of them can be traced back to their origins in Central & South America
Nutrition Information
Serving size: ½ cup, chopped - 68g
Average
Quantity
per serving
% Daily
intake per
serve
Average
Quantity
per 100g
Energy (kJ/Cal)
71/17
0.8%
104/25
Protein (g)
0.6
1%
0.9
Fat, total (g)
0.1
0.2%
0.2
- saturated (g)
trace
0%
trace
Carbohydrate (g)
2.3
0.7%
3.4
- sugars (g)
2.0
2%
3.0
Dietary fibre (g)
2.0
7%
2.9
Contains dietary fibre
Sodium (mg)
2
0%
3
Vitamin C (mg)
4.8
12% RDI*
7.0
A source of vitamin C
Folate (µg)
22.4
11% RDI*
33
A source of folate
Vitamin A Equiv. (µg)
39
5% RDI*
57
Iron (mg)
0.3
2% RDI*
0.4

Percentage Daily Intakes are based on an average adult diet of 8700 kJ
Your daily Intakes may be higher or lower depending on your energy needs.
*Recommended Dietary Intake (Average Adult)

Source: The Concise New Zealand Food Composition Tables, 10th Edition, Plant & Food Research - 2014
Write a review
Note:
HTML is not translated!