Sale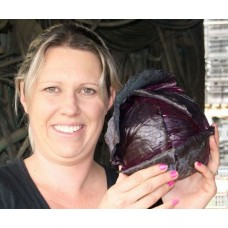 zoom
Price:
$3.80
$3.50
Ex Tax: $3.04

0 reviews
Write a review
Braise red cabbage with a chopped apple & red wine.

Children can still enjoy this dish as the alcohol will evaporate
on cooking.

Red cabbage is generally smooth & round in shape, with layers of
tightly packed purple-red coloured leaves.

Red cabbage may have added nutritional benefits over white
cabbage & has a more robust flavour.

The colour of red cabbage is due to phytonutrients called
anthocyanins.

Research shows that it can help with Blood Pressure, Stomach Ulcers, & can lower the risk of some cancers.
Lemon juice, wine or vinegar can be added to preserve the colour when cooked
Try olive oil & lemon juice on coleslaw instead of mayonnaise
a "super" vegetable... eat at least once a week.
To give cabbage a lift, try coriander, curry spices, nutmeg, ginger & allspice, along with herbs such as mint, dill, fennel, parsley, thyme, celery seed, garlic & chives.
Grown year round at the Onion Vegie Place Katikati.
Cabbages have high nutrition & vitamin levels.
A good anti-aging vegetable with vitamins B1,B6,C,D&K, as well as beta-carotene.

Half a cup of Red Cabbage contains more antioxidants than 1 cup of green tea
Red Cabbages are hard, tightly packed & crisp with dark red or crimson leaves.
Traditionally they are cooked longer than Green Cabbages.

Cook for a short time until tender, but still slightly crisp... Serve as soon as possible after cooking.
Lemon juice, wine or vinegar must be added to preserve the lovely red colour when cooked.

TRY THESE IDEAS
Chlli stir fried cabbage & onions
Braised cabbage with fried potatoes, feta & dill
Red Cabbage pan fried in olive oil with red onions, dill, mint & parsley.
Shredded red cabbage with a tahini yoghurt dressing & chopped mint
Sauerkraut - cabbage fermented with salt
Pickled red cabbage
Kimchi made with red cabbage
Sauteed sliced cabbage tossed with blue cheese or dill or rosemary croutons
Simmered finely sliced cabbage, drained & tossed with grated cheddar cheese.
Chopped cabbage soup with toasted slices of French bread & Swiss cheese
Finely sliced red cabbage & celeriac with a mustard mayo
Shredded & added to Asian inspired broths

---
Click Here:
Cabbage Recipes
Nutrition Information
Serving size: 1 cup, chopped - 79g
Average
Quantity
per serving
% Daily
intake per
serve
Average
Quantity
per 100g
Energy (kJ/Cal)
96/23
1%
121/29
Protein (g)
1.3
2%
1.7
Fat, total (g)
0.2
0.2%
0.3
- saturated (g)
0.0
0%
trace
Carbohydrate (g)
2.7
0.9%
3.4
- sugars (g)
2.7
3%
3.4
Dietary fibre (g)
2.3
8%
2.9
Contains dietary fibre
Sodium (mg)
25
1%
32
Vitamin C (mg)
43.5
109% RDI*
55.0
A good source of vitamin C
Vitamin A Equiv. (µg)
87
12% RDI*
110
A source of vitamin A Equiv.
Vitamin B6 (mg)
0.17
11% RDI*
0.21
A source of vitamin B6
Potassium (mg)
237
300
Contains potassium
Folate (µg)
14
7% RDI*
18
Iron (mg)
0.5
4% RDI*
0.6

Percentage Daily Intakes are based on an average adult diet of 8700 kJ
Your daily Intakes may be higher or lower depending on your energy needs.
*Recommended Dietary Intake (Average Adult)

Source: The Concise New Zealand Food Composition Tables, 10th Edition, Plant & Food Research - 2014
Write a review
Note:
HTML is not translated!