Sale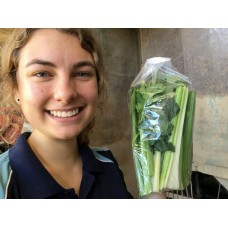 zoom
Price:
$3.80
$3.50
Ex Tax: $3.04
Product Code:
VCeleryBAG
Availability:
In Stock
0 reviews
Write a review
Leaves can be used in salads, soups, stocks, casseroles or as a garnish.
Great raw, in salads or as a snack.
Stalks & leaves can be eaten raw or cooked.
Add celery to casseroles, pies, stir-fries & soups...
great flavour-booster.
It can be boiled, steamed, microwaved, fried.
Finely chopped celery compliments macaroni cheese, fish pie, mashed potatoes, salads & all chinese dishes.
Celery contains phthalide, a natural vasodilator.
As blood vessel walls relax, they dilate & allow more room for blood flow.
Celery provides a gain in potassium, unlike most diuretics.
It's great in soups & salads.
Only vegetable with a negative calorie count... meaning that you burn more calories in the energy to eat it, than the celery you devour.
Tradionally used in Asian medicines for lowering blood pressure & is possibly helpful in reducing cholesterol levels
Eating Celery may help with stress relief.
Celery contains Magnesium & essential oils that soothe the nervous system, helping relaxation & sleep.
Available all year round
Celery is loaded with anti-oxidants & celebrated for its diuretic properties.
Celery is an excellent detoxifying ingredient, especially beneficial to kidneys, as it lowers the uric acid levels in the blood, thus reducing individuals risk of developing kidney stones.
Celery makes a delicious & refreshing beverage when extracted with apple & lemon.
Celery is the 19th most popular vegetable in New Zealand.
Doctors of Traditional Chinese Medicine have been prescribing celery to patients with high blood pressure for more than a century.
Celery contains phytochemicals known as phtalides, which relax the muscle tissue & the artery walls, enabling increased blood flow & in turn lowering blood pressure.
Eating four stalks of celery a day may be helpful in lowering blood pressure but it is important to drink plenty of water as celery can dehydrate you.
Celery leaves are often discarded, however they are a great way to add flavour & are very nutritious.
Add celery to green smoothies & for dipping in to hummus or peanut butter.
If you have trouble using all of the celery before it wilts past the point of revival you could freeze it for your next batch of soup.
Rinse & dice the celery stalks, then pat them dry to avoid clumping & freeze in snaplock bags
Green stemmed celery which was developed in the United States in the 1940 & was successfully introduced into New Zealand in the 1960s
Refidgerate in plastic bags.
Alternatively, refridgerate with the butt end in 2-3 cm of water, & change water daily.
Click Here:
A "powerfood" that should be eaten daily
Nutrition Information
Serving size: 1 cup sliced - 108g
Average
Quantity
per serving
% Daily
intake per
serve
Average
Quantity
per 100g
Energy (kJ/Cal)
54/13
1%
50/12
Protein (g)
0.6
1%
0.5
Fat, total (g)
0.2
0%
0.2
- saturated (g)
0.03
0%
0.03
Carbohydrate (g)
1.4
0%
1.3
- sugars (g)
1.4
2%
1.3
Dietary fibre (g)
1.5
5%
1.4
Sodium (mg)
32
1%
30
Potassium (mg)
367
340
Contains Potassium
Calcium (mg)
41
5% RDI*
38
Vitamin B6 (mg)
0.06
4% RDI*
0.06
Vitamin C (mg)
1
2% RDI*
1
Iron (mg)
0.1
1% RDI*
0.1

Percentage Daily Intakes are based on an average adult diet of 8700 kJ
Your daily Intakes may be higher or lower depending on your energy needs.
*Recommended Dietary Intake (Average Adult)

Source: The Concise New Zealand Food Composition Tables, 12th Edition, Plant & Food Research - 2018
Write a review
Note:
HTML is not translated!