Sale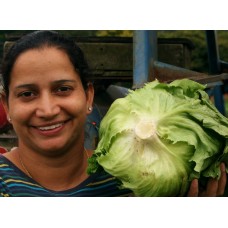 zoom
Price:
$2.80
$2.50
Ex Tax: $2.17
Product Code:
VLettuceICEBURG
Availability:
In Stock
0 reviews
Write a review
Fresh Cut.
Mostly used raw in salads.
Make sure you serve a healthy dressing (e.g. made with olive oil) with your lettuce salad as this will help your body get the best health benefit.
Sometimes called "Normal" or "standard" lettuce.
The lettuce heads are firm with a center core or "heart".
The leaves have a mild flavour & are cupped, hold their shape & can be used to hold fillings.
Store at 2-5 °C with a relative humidity of 95%
Refrigerate in plastic bags or store in the crisper
Lettuces are Ethylene sensitive - so store seperately from ethylene producing fruit & vegetables.
Nutrition Information
Serving size: 1 cup shredded leaves - 50g
Average
Quantity
per serving
% Daily
intake per
serve
Average
Quantity
per 100g
Energy (kJ/Cal)
37/9
0%
75/18
Protein (g)
0.6
1%
1.1
Fat, total (g)
0.2
0%
0.3
- saturated (g)
0.05
0%
0.1
Carbohydrate (g)
0.9
0%
1.9
- sugars (g)
0.6
1%
1.1
Dietary fibre (g)
0.8
3%
1.6
Sodium (mg)
1
0%
2
Folate (µg)
22
11% RDI*
55
Vitamin A Equiv. (µg)
22
3% RDI*
45
Iron (mg)
0.1
1% RDI*
0.2

Percentage Daily Intakes are based on an average adult diet of 8700 kJ
Your daily Intakes may be higher or lower depending on your energy needs.
*Recommended Dietary Intake (Average Adult)
Source: The Concise New Zealand Food Composition Tables, 12th Edition, Plant & Food Research - 2018
Write a review
Note:
HTML is not translated!