Sale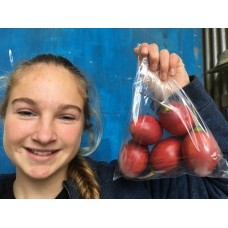 zoom
Price:
$6.80
$5.90
Ex Tax: $5.13
Product Code:
FTamarilloBAG
Availability:
In Stock
0 reviews
Write a review
Tantalise your tastebuds with the exotic tamarillo.
Juicy & packed with goodness
Eat them raw, in a tasty smoothie, add to casseroles, chop into salsa, slice onto pizza or muffin & with dessert.
The tamarillo fruit is high in vitamins A, C, B6 & E as well as, containing iron, magnesium, calcium & copper. Its excellent nutritional qualities & unique flavour ensure it contines to hold a strong market niche
Tamarillos are low in fat & calories.
Tamarillo production volumes were badly hit by TPP tomato potato psyllid outbreak several years ago, but are slowly recovering.
Direct from our favourite tamarillo grower
Tamarillos grow on trees, & prefer sheltered, frost-free areas.
Tamarillos can be frozen, whole or peeled, to be enjoyed in baking or smoothies at a later date

Originally from South America, they belong to the same genus as tomatoes.
They were introduced to New Zealand in the late 1800's, but didn't become popular until World War II when imported tropical fruit was restricted.

Throughout the world Tamarillo's are known as the tree tomato or tomate de arbol.
In New Zealand, though, the name was changed to "tamarillo" in 1967, to distinguish it from a regular tomato.

When eating them raw (discard the skin), a sprinkling of brown sugar is often added to counter the tartness. Left overnight, the sugars soften the fruit & makes a delicious breakfast compote, but is also superb glazed under a grill.

They are also delicious poached in syrup and can handle warm-flavoured spices such as cinnamon.
Store tamarillos in the fridge for up to two weeks or in a fruit bowl for a week.
Tamarillos can easily be frozen, skinned & left whole, or pureed for some of those winter puddings.
Tamarillos are relatives of the potato, tomato & eggplant.
Tamarillos are sometimes called "tree tomatoes"
To remove Tamarillo skins:
Pour boiling water over fruit and allow to stand for a few minutes.
Tip out hot water, cover with cold water & peel fruit.
Nutrition Information
Serving size: 1 tamarillo - 60g
| | Avg Quantity per serving | Avg Quantity per 100g |
| --- | --- | --- |
| Energy (kJ/Cal) | 78/19 | 130/31 |
| Protein (g) | 1.2 | 2 |
| Fat, total (g) | 0.24 | 0.4 |
| - saturated (g) | 0.06 | 0.1 |
| carbohydrate (g) | 2.3 | 3.8 |
| - sugars (g) | 2.1 | 3.5 |
| Fibre (g) | 2 | 3.3 |
| Sodium (mg) | 0.6 | 1 |
| Vitamin C (mg) | 18 | 30 |
| Vitamin A Equiv. (µg) | 113 | 189 |
Source: The Concise New Zealand Food Composition Tables, 8th Edition, Plant & Food Research
Write a review
Note:
HTML is not translated!