Sale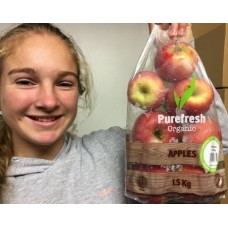 zoom
Price:
$6.80
$6.50
Ex Tax: $5.65

0 reviews
Write a review
Packed with nutrients & free from synthetic chemical residues, you can be assured of a safer, healthier apple for you & your family to enjoy.

More goodness in your bite!

Experience the healthy tasty difference when you bite into a Purefresh lunch box apple. Approximately 13 apples per bag

CHOOSE HEALTH a diet free of harmful chemicals helps prevent disease
CHOOSE QUALITY FOOD the mineral & vitamin content of organic produce has been found to be higher than non-organic in some studies.
CHOOSE CLEAN organic agriculture helps conserve our soil, water & wildlife.
CHOOSE A SAFE FUTURE FOR OUR CHILDREN organic food is guaranteed GE free
CHOOSE TASTE well fed, synthetic chemical-free soil produces better tasting food

PUREFRESH ORGANIC CHOOSE CERTIFIED

Purefresh Organic is your assurance this product is from a certified organic grower working under strict Biogro or Demeter standards.
These certification agencies audit our growers & ourselves on a yearly basis to ensure that what you are getting is the genuine product.

Purefresh Organic is doing its bit to ensure that the credibility of the organic industry remains unchallenged & that consumers can trust they are eating the genuine article.

These apples are full of;
Flavinoids: antioxidants that help prevent lung & colon cancer, & heart disease.
Pectin: soluble fibre that helps reduce cholesterol
Fibre: promotes weight loss; a medium apple contains five times more fibre than most cereals
Boron: a mineral that helps women maintain estrogen during menopause
Vitamins: A, C, E, K, B1, B2, B3, B5, B6
Minerals: calcium, phosphorus, potassium, sulphur, sodium, fluorine, magnesium, chlorine, iron, silicon, copper, iodine

If buying more apples than you can eat quickly, store them in a plastic bag in the produce draw of your refrigerator.
Apples can help prevent constipation, improve lung function, & lower the risk of heart disease.
A compound known as quercetin is found in apples, which are broken down by the body & helps prevent chronic inflammation that results in the thickening of the arteries, blood clotting in the arteries etc... Thus decreasing the risk of heart disease.
Certified Organic - BioGro #2392
Nutrition Information
Serving size: 1 apple - 130g
| | Avg Quantity per serving | Avg Quantity per 100g |
| --- | --- | --- |
| Energy (kJ/Cal) | 264/64 | 203/49 |
| Protein (g) | 0.4 | 0.3 |
| Fat, total (g) | 0.8 | 0.6 |
| - saturated (g) | 0.2 | 0.15 |
| carbohydrate (g) | 13.9 | 10.7 |
| - sugars (g) | 13 | 9.9 |
| Fibre (g) | 1.8 | 1.4 |
| Sodium (mg) | 1 | 1.3 |
| Vitamin C (mg) | 10.4 | 8 |
Source: The Concise New Zealand Food Composition Tables, 8th Edition, Plant & Food Research
Write a review
Note:
HTML is not translated!