Sale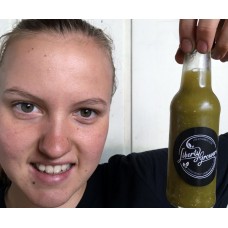 zoom
Price:
$7.50
$7.00
Ex Tax: $6.09
Brand:
Liberty Growers
Product Code:
GLGChilliSauceMILD
Availability:
In Stock
0 reviews
Write a review
Go for it, Pour it on.
It's mild in heat, but still packs a bit of a punch.
Great on hotdogs, hamburgers, barbecue, in or on meatloaf & on cold vegetable dishes.
Fold into scrambled eggs
Add a perk to your hollandaise.
Flavor your tartar sauce.
Add a bit of bang to your burger.
Liven up your cocktail sauce.
Dollop on raw oysters for fresh-out-of-the-sea heat.
Add to chutney for a little pep to the sweetness.
Guarenteed to spice up your life
Made with Jalapeno Chillis, Green Tomatoes & Green Capsicums.
Liberty Growers Chilli Sauces are made the old-fashioned way - Small batches using our own, home grown, spray-free fruit & vegetables.
Liberty Growers Chilli Sauces are made with LOVE, & are not processed & manufactured, but follow recipes not formulas.
No additives.
Write a review
Note:
HTML is not translated!