Sale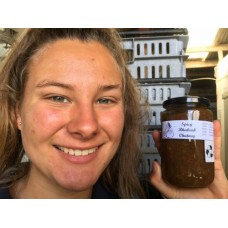 zoom
Price:
$5.90
$5.00
Ex Tax: $4.35
Brand:
Happy Pantry
Product Code:
GHPChutneySPICYRHUBARB
Availability:
In Stock
0 reviews
Write a review
Lovely, lively culinary oomph.
Ooh-lala... this is hot.
Excellent on cheese & crackers & with cold meats

Ingredients include ginger, garlic, cider vinegar, chilli powder, ground cloves, cayenne pepper, allspice, cinnamon, brown sugar, salt, pepper, raisins, carrot & Rhubarb.


Happy Pantry preserves are made the old-fashined way
Small batches using own, home grown, spray free fruit
Happy Pantry preserves, rather than processes & manufactures;
Follows recipes not formulas
Free from artificial colours, flavours, preservatives & additives
HAPPINESS is HOMEMADE

Write a review
Note:
HTML is not translated!