Sale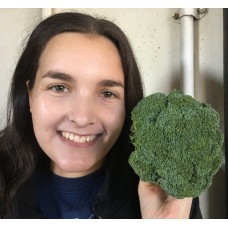 zoom
Price:
$2.50
$2.20
Ex Tax: $1.91
Product Code:
VBroccoliTUAKAU
Availability:
In Stock

0 reviews
Write a review
Eat raw to enjoy most health benefits. If cooking steam for a maximum of 3 mins or stir-fry for best flavour, texture and health benefits.
One of the most nutritious vegetables about.
Broccoli contains compounds, which research strongly indicates, inhibit the development of some cancers.
Broccoli contains glutathione, a potent antioxidant that helps kick-start the immune system & combat infection
Broccoli means 'little sprouts' in Italian.

Broccoli is one of the most versatile vegetables... can be served raw or lightly blanched & used in salads, pasta dishes, omelettes, quiches, soups & as a side dish.

Store at 0ºC with a relative humidity of 90-100%.
Broccoli is very ethylene sensitive so store separately from ethylene producing fruits & vegetables.
---
Click here to watch a video on cutting broccoli
Nutrition Information
Serving size: ½ cup, chopped - 82g
Average
Quantity
per serving
% Daily
intake per
serve
Average
Quantity
per 100g
Energy (kJ/Cal)
104/25
1%
127/30
Protein (g)
2.5
5%
3.0
Fat, total (g)
0.4
0.6%
0.5
- saturated (g)
0.08
0.3%
0.1
Carbohydrate (g)
1.5
0.5%
1.8
- sugars (g)
1.5
2%
1.8
Dietary fibre (g)
2.8
9%
3.4
Contains dietary fibre
Sodium (mg)
4
0.2%
5
Vitamin C (mg)
46.7
117% RDI*
57.0
A good source of vitamin C
Vitamin B6 (mg)
0.23
14% RDI*
0.28
A source of vitamin B6
Vitamin E (mg)
1.3
13% RDI*
1.6
A source of vitamin E
Folate (µg)
25
13% RDI*
31
A source of folate
Vitamin A Equiv. (µg)
90
12% RDI*
110
A source of vitamin A Equiv.
Niacin (mg)
0.8
8% RDI*
1.0
Iron (mg)
0.5
4% RDI*
0.6
Zinc (mg)
0.2
2% RDI*
0.3
Potassium (mg)
148
180
Thiamin (mg)
trace
0% RDI*
trace
Riboflavin (mg)
trace
0% RDI*
trace

Percentage Daily Intakes are based on an average adult diet of 8700 kJ
Your daily Intakes may be higher or lower depending on your energy needs.
*Recommended Dietary Intake (Average Adult)

Source: The Concise New Zealand Food Composition Tables, 10th Edition, Plant & Food Research - 2014
Write a review
Note:
HTML is not translated!