Sale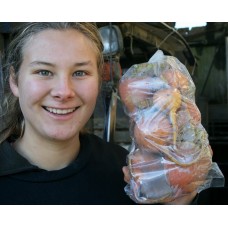 zoom
Price:
$4.50
$4.00
Ex Tax: $3.48
Product Code:
VBeetrootGOLDEN1.5KGBAG
Availability:
In Stock
0 reviews
Write a review
Bright yellow flesh that retain their colour when cooked & has a sweet mild flavour
Boil or steam beetroot whole, with the skin still on for best flavour: peel (the peel comes off very easily by hand) when they are cooled.

Then they can be wedged & dipped in balsamic vinegar/pepper, or roasted.
Baby beets can be roasted without pre-cooking, with the skin on if you wish.
Sweet golden beetroot does not take as long to cook as red beetroot... does not bleed like red beetroot.
Looks like pumpkin or kumara on the plate when cooked.
The colour of beetroot is due to phytonutrients called betalains.
Helps Purify the blood.
Aids in skin & glandular systems.
High Antioxidant Potency.
Grown at the Onion Vegie Place Katikati
Beetroot can be partnered up with basil, mint, coriander, dill, fennel, sage, thyme & oregano.
Beetroot also likes these spices - Cumin, allspice, cloves, caraway & ginger.
For Beetroot Roasting Advice, Click here
Nutrition Information:
Source: The Concise New Zealand Food Composition Tables, 12th Edition, Plant & Food Research 2018
Write a review
Note:
HTML is not translated!