Sale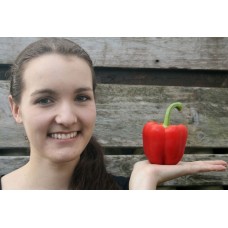 zoom
Price:
$2.70
$2.50
Ex Tax: $2.17
Product Code:
VCapsicumRED
Availability:
In Stock
0 reviews
Write a review
Red capsicums are the sweetest of the different coloured varieties.

Great addition to a vegetable platter.

They add a brilliant splash of colour.

Their texture is also the perfect crunchy complement for dips
Contain the vitamin C of oranges.
Low Calorie.
Cholesterol, Sodium and Fat free.
High in antioxidants.
We never sell imported Capsicums from Australia ever.
Capsicums are known for their pungent flavour in food, due to a plant chemical called capsaicin.
Interestingly, this is the chemical used in pepper spray for law enforcement.
Levels of capsaicin in capsicums will vary depending on a range of factors such as weather, growing conditions, and age.
Capsicums is known to have anti-inflammatory and pain relief properties, and has been used to treat conditions including skin rashes, stomach ache and arthritis.
It is also commonly used in muscle rub-down creams to help alleviate pain.
Along with the above properties, capsicums are a good source of Vitamin C, and contain carotenes and B vitamins.
Capsicums can be eaten raw or cooked.

Use raw in salads, cut into strips & eat with dips, or use as an edible garnish.

Dice capsicums for use on pizzas; cut into chunks for kebabs; use in pasta sauces; or add to stir fries.

Stuff with rice or a bread crumb mixture & bake.

Add roasted capsicums, either hot or cold, to salads & sandwiches.
---
Click Here:
Capsicum Recipes
Nutrition Information
Serving size: 1 capsicum - 74g
Average
Quantity
per serving
% Daily
intake per
serve
Average
Quantity
per 100g
Energy (kJ/Cal)
89/21
1%
120/29
Protein (g)
0.7
1%
0.9
Fat, total (g)
0.1
0.2%
0.2
- saturated (g)
trace
0%
trace
Carbohydrate (g)
3.7
1%
5.0
- sugars (g)
3.7
4%
4.9
Dietary fibre (g)
1.1
4%
1.5
Sodium (mg)
0
0%
0
Vitamin C (mg)
103.6
259% RDI*
140
A good source of vitamin C
Folate (µg)
63
32% RDI*
85
A good source of folate
Vitamin B6 (mg)
0.41
26% RDI*
0.56
A good source of vitamin B6
Vitamin A Equiv. (µg)
118
16% RDI*
160
A source of vitamin A Equiv.
Niacin (mg)
0.74
7% RDI*
1
Potassium (mg)
155
210

Percentage Daily Intakes are based on an average adult diet of 8700 kJ
Your daily Intakes may be higher or lower depending on your energy needs.
*Recommended Dietary Intake (Average Adult)

Source: The Concise New Zealand Food Composition Tables, 10th Edition, Plant & Food Research - 2014
Write a review
Note:
HTML is not translated!