Sale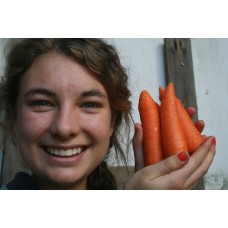 zoom
Price:
$0.80
$0.70
Ex Tax: $0.61
Brand:
Frank's Carrots
Product Code:
VCarrotPUKEKOHEeach
Availability:
In Stock
0 reviews
Write a review
A raw carrot is a great alternative to fruit

Carrots cooked whole, then cut up, are noticeably sweeter than if they are cut up first.
Cooking carrots is simple, just wash, peel & cut into any shape before boiling, steaming, stir-frying, roasting, barbecued, braised, pureeing or even frying with a little honey
Carrots are full of sulfur & glutathione which helps in the detoxification process, especially when eaten raw.
For boiling carrots, it is best to boil them for 12-15 minutes.
6 - 8 minutes to steam carrots that are sliced 1/2cm thick.
Carrots should be eaten both raw and cooked.
Buy carrots without the greenery still on them, otherwise those pretty leafy tops will act like nutrient vampires sucking out the vitamins & moisture before you can eat the carrots.
Carrots pair well with mild or strong flavours... use spices like; cinnamon, cumin, coriander, ginger, nutmeg & paprika, along with herbs: dill, fennel, parsley, rosemary, sage, thyme, basil & garlic
---
Click Here:
Roasted Vegetable Soup Recipe
Nutrition Information
Serving size: 1 carrot - 100g
Average
Quantity
per serving
% Daily
intake per
serve
Average
Quantity
per 100g
Energy (kJ/Cal)
106/25
1%
106/25
Protein (g)
0.6
1%
0.6
Fat, total (g)
0.4
0.6%
0.4
- saturated (g)
0.1
0.4%
0.1
Carbohydrate (g)
3.5
1%
3.5
- sugars (g)
3.3
4%
3.3
Dietary fibre (g)
2.7
9%
2.7
Contains Dietary Fibre
Sodium (mg)
33
1%
33
Vitamin A Equiv. (µg)
1000
133% RDI*
1000
A good source of Vitamin A Equiv.
Vitamin C (mg)
5.9
15% RDI*
5.9
A source of Vitamin C
Niacin
1
10% RDI*
1
A source of Niacin
Potassium (mg)
230
230
Contains Potassium
Vitamin B6 (mg)
0.14
9% RDI*
0.14
Folate (µg)
17
9% RDI*
17

Percentage Daily Intakes are based on an average adult diet of 8700 kJ
Your daily Intakes may be higher or lower depending on your energy needs.
*Recommended Dietary Intake (Average Adult)

Source: The Concise New Zealand Food Composition Tables, 10th Edition, Plant & Food Research - 2014
Write a review
Note:
HTML is not translated!