Sale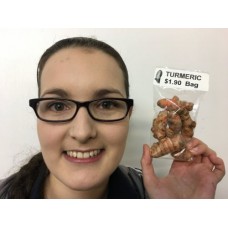 zoom
Price:
$2.00
$1.90
Ex Tax: $1.65
Product Code:
VTURMERIC
Availability:
In Stock
0 reviews
Write a review
Two inches of fresh turmeric root is around one tablespoon of turmeric root grated
Try using Turmeric when using your Nutribullet or add to smoothies, stir-fries, curries as an easy way of incorporating Turmeric into your meals.
Add Black Pepper with your turmeric to maximise nutrient absorption.
Turmeric can be added to almost any meal for flavouring, in place of sugar dense bottle sauces
Turmeric has a peppery, warm & bitter flavour & a mild fragrance slightly reminiscent of orange and ginger.
Turmeric is the seasoning that gives curry powder its yellow colour

Turmeric contains curcumin - a compound known to interfere with chemicals that cause inflammation.
Turmeric has amazing Natural antibiotic & antiseptic,
anti-inflammatory, anti-bacterial, anti-oxidant, anti-fungal & well known detoxifying properties.
Turmeric helps support healthy cholesterol levels & normal brain health

It also improves glucose metabolism.

Aids in fat metabolism & weight management
Turmeric is best stored in a paper bag in the crisper section of your refrigerator
Speeds up the healing of wounds
Improves digestion & helps prevent gas & bloating
Natural blood purifier
Natural skin tonic & aids in improving skin conditions such as psoriasis & eczema
Slows progression of MS & helps prevent progression of Alzheimer
Lowers cholesterol & helps heal stomach ulcers
Helps prevent cancer such as breast, prostate, skin, colon, lymphoma & leukemia & can also reduce side effects of chemotherapy
Curcumin is also the chemical responsible for the powerful anti-inflammatory effects in both traditional Chinese & Indian (ayurvedic) systems of medicine for thousands of years.
A study found that when people ate the beneficial compound in turmeric, it was undetectable in the blood but when paired with the ingredient in black pepper it was much better absorbed

It is helpful both when ingested & when applied topically to skin conditions or injuries.
Clinical studies have shown turmeric to be effective in helping people with Cystic Fibrosis, Rheumatoid Arthristic, Inflammatory Bowel Disease & helping boost immunity.
In a report for the "American Journal of Epidemiology" researchers investigated the association between curry consumption level & cognitive function in elderly. Those who ate curry 'occasionally' & 'often or very often' scored much better or specific tests designed to measure cognitive function than did people who 'never or rarely' consumed curry.
One of curcumin's secret weapons is its ability to activate genes to produce a vast array of antioxidants that serve to protect our precious mitochondria.
Neuro-scientists around the world, especially epidemiologists are seaching for clues to explain why the prevalence of dementia is markedly reduced in communities where turmeric is used in abundance

Curcumin, the pigment that gives turmeric its orange colour, will STAIN! ... make sure not to use white porcelain, or any other light coloured cookware or dishes
Enjoy eggs with a heaped teaspoon or two of turmeric, & avocado & butter in the morning.
Turmeric (Curcuma longa) is a rhizomatous herbacious perennial plant of the ginger family.
Turmeric is grown & harvested in Fiji
---
Nutrition Information
| | Avg Quantity per 100g |
| --- | --- |
| Energy (kJ) | 1481 |
| Protein (g) | 7.83 |
| Fat, total (g) | 9.88 |
| - saturated (g) | 3.12 |
| carbohydrate (g) | 64.93 |
| - sugars (g) | 3.21 |
| Fibre (g) | 21.1 |
| Sodium (mg) | 38 |
Write a review
Note:
HTML is not translated!