Sale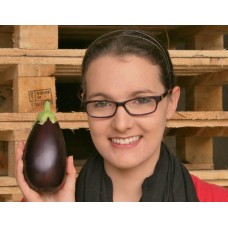 zoom
Price:
$3.90
$3.60
Ex Tax: $3.13
Product Code:
VAubergine1
Availability:
In Stock

0 reviews
Write a review
Cook them whole, sliced or diced - grilled, fried, baked, boiled or steamed.
Aubergines have a mild taste & is typically cooked with stronger flavours such as garlic, tomatoes, onions, herbs & spices
Are shiny, dark purple, tear drop shaped, with firm, tasty flesh.
These Aubergines are grown in conjunction with "Integrated Pest Management" Technology, minimising their need for chemical control of harmful insect pests
We NEVER sell imported Aubergines

Research indicates anthocyanins, which are found in Aubergines, have a wide variety of health benefits including protecting against the signs of ageing & reducing the risk of cancer & diabetes.
Deep-purple aubergine have a rich source of phytonutrients - naturally occurring plant chemicals that have disease-protecting capabilities... one in particular, chlorogenic acid, is one of the most potent free radical scavengers found in plant tissues.

Eggplant originally came from India.

The Italian name "Melanzane" comes from the latin "Mala insana" which means the apple of madness & could have something to do with the fact that eggplant is a member of the often-poisonous nightshade family & the only one edible that didn't come from the Americas.

Eggplants other name is the French "Aubergine" which comes from the Catalan "Al-badingan".

Favourite aubergine dishes include traditional dishes like baba ghanoush, an aubergine dip where the aubergine is roasted, peeled & pureed with tahini, lemon, garlic, extra virgin olive oil & parsley.

Imam Bayeldi, a dish of truncheon shaped aubergine stuffed with fried onions, tomatoes, garlic, extra virgin olive oil & lemon, slow cooked & served cold.

Melanzane Parmigiana, slices of fried aubergine layered with tomato sauce, mozzarella & parmesan & then baked.

Sliced aubergine simply brushed with extra virgin olive oil & roasted in the oven & served with sliced chilli, lemon juice, more oil & mint leaves is a favourite.

Is it necessary to salt Aubergine before using?

Salting by sprinkling the cut aubergine with plenty of salt, adding a weight & leaving it to expel water for 30 minutes or so was necessary in the past to remove their bitterness.

These days the varieties grown aren't bitter so don't need to be salted for that reason.

However, have you ever noticed how fresh-cut aubergine suck up all the oil in the pan when they are fried & refuse to brown?

This is because of their spongy texture.

Salting the aubergine collapses this sponginess & after rinsing & drying, it does not suck up as much oil when fried.

This is the reason I often salt sliced aubergine that is going to be fried, roasted, barbecued or otherwise cooked by itself.

Aubergine carries other flavours well.
It gives depth to dishes & any ingredient that is used all over the world has to be versatile.

Technically Aubergine is a fruit.
Aubergine is very common in southern European countries & is used in many traditional recipes; Greek - moussaka, French - ratatouille, Indian - baingan bharta, & Turkish - bayildi
---
Nutrition Information
Serving size: 1 cup cubes = 82grams
Average
Quantity
per serving
% Daily
intake per
serve
Average
Quantity
per 100g
Energy (kJ/Cal)
75/18
1%
92/22
Protein (g)
0.6
1%
0.8
Fat, total (g)
0.1
0.%
0.1
- saturated (g)
trace
0%
trace
Carbohydrate (g)
2.6
1%
3.2
- sugars (g)
2.5
3%
3.1
Dietary fibre (g)
2.1
7%
2.5
Contains dietary fibre
Sodium (mg)
0
0%
0
Vitamin B6 (mg)
0.07
4% RDI*
0.08
Vitamin C (mg)
1
2% RDI*
0.08
Potassium (mg)
164
200

Percentage Daily Intakes are based on an average adult diet of 8700 kJ
Your daily Intakes may be higher or lower depending on your energy needs.
*Recommended Dietary Intake (Average Adult)

Source: The Concise New Zealand Food Composition Tables,

12th Edition, Plant & Food Research - 2016
Write a review
Note:
HTML is not translated!