Sale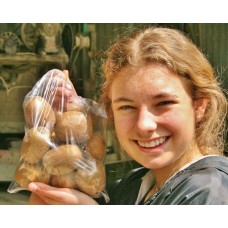 zoom
Price:
$4.80
$4.50
Ex Tax: $3.91
Product Code:
FKiwifruitGREEN1KG
Availability:
In Stock
0 reviews
Write a review
Most nutritionally dense fruit, by weight.
Delicious flavour.
Approximately 10 kiwifruit
We NEVER sell imported kiwifruit ever!
Kiwifruit is another rich source of vitamin C & dietary fiber.
Additionally, the vitamin E & Omega-3 fatty acids within its seeds have a thinning effect on the blood, which may reduce the risk of blood clots.
A 100 gram Kiwifruit contains about 10 grams of sugar.

HOWEVER half of the sugar in Kiwifruit is fructose & while we perceive fructose to be very sweet, it has little effect on our blood-glucose levels.

In addition the cell walls of Kiwifruit flesh are not digested but hang around in our intestine to further reduce glucose absorption.

Scientists at Plant & Food Research are investigating whether compounds found in Kiwifruit called Phenolics reduce our blood-sugar response to the fruit.

Eating kiwifruit could boost your health, according to findings from a new study by New Zealand scientists.
It's long been known that kiwifruit has bowel health attributes, but in this latest study, researchers looked into whether kiwifruit could be used as prebiotics - foods that are used to help recover from digestive problems by helping good bacteria thrive in the gut.
The study, carried out by Plant and Food Research, University of Otago & Zespri International Limited NZ found that while both green & gold kiwifruit boosted the number of good bacteria, the green variety was better because it boosted a wider variety of beneficial gut bacteria.
The changes were consistent, despite the variation in individual gut microbiota, & show kiwifruit components can "induce substantive change in microbial ecology & metabolism which could have consequences for human health".
This adds to earlier research which shows kiwifruit is excellent for keeping bowel movements regular due to fibre & actinidin - an enzyme that breaks down proteins & aids digestion.
Other trials with both green & gold kiwifruit, using university students as trialists, have shown daily consumption has a positive influence on mood, increasing the feeling of wellbeing, vigour & vitality while reducing fatigue.
Here are 14 more reasons kiwifruit are good for you.

1. Helps Your Digestions with Enzymes
Raw kiwi contains actinidain, a protein-dissolving enzyme that can help digest a meal much like the papain in papaya or bromelain in pineapple.

2. Helps Manage Blood Pressure
Kiwi's high level of potassium helps keep our electrolytes in balance by counteracting the effects of sodium.

3. Protects from DNA Damage
A study by Collins, Horska and Hotten showed that the unique combination of antioxidants in Kiwi fruit helps protect the cell DNA from oxidative damage. Some experts conclude this can help prevent cancer.

4. Boosts Your Immunity
Kiwi's high vitamin C content along with other antioxidant compounds has been proven to boost the immune system.

5. Smart Carb for Weight Loss
Kiwi's low glycemic index & high fiber content means it will not create a strong insulin rush like other fruit with high sugar contents — so the body will not respond by storing fat.

6. Improves Digestive Health
Kiwis are a great source of fiber. This prevents constipation & other intestinal problems.
7. Helps Clean Out Toxins
The fuzzy fiber of Kiwi helps bind & move toxins from your intestinal tract.
8. Helps Fight Heart Disease
Eating 2-3 kiwis a day has been shown to reduce the potential of blood clotting by 18% & reduce triglycerides by 15%.
Many individuals take aspirin to reduce blood clotting, but this causes many side effects including inflammation & intestinal bleeding.
Kiwi fruit has the same anti-clotting benefits with no side effects, just additional health benefits!
9. Suitable For Diabetics
Kiwi is in the 'low' category for glycemic index, meaning it does not raise your blood sugar quickly. It has a glycemic load of 4 which means it is safe for diabetics.

10. Protects Against Macular Degeneration & Other Eye Problems
Macular degeneration is the leading cause of vision loss in older adults. A study on over 110,000 men & women showed that eating 3 or more serving of fruit per day decreased macular degeneration by 36%. This is thought to be associated with the kiwi's high levels of lutein & zeaxanthin — both of which are natural chemicals found in the human eye. Although both fruits & vegetables were studied, this same effect was not shown for vegetables.

11. Create Alkaline Balance
Kiwi is in the 'most alkaline' category for fruits, meaning it has a rich supply of minerals to replace the excess of acidic foods most individuals consume. A few of the benefits of a properly acid/alkaline balanced body are: youthful skin, deeper sleep, abundant physical energy, fewer colds, less arthritis, & reduced osteoporosis.

12. Great for the Skin
Kiwis are a good source of vitamin E, an antioxidant known to protect skin from degeneration.

13. Exotic Taste & Look for Food Variety
Kiwis look & taste great. Kids often love them because they are so different from most fruits.
For nutritional balance it is always good to eat a variety of foods. Each food has its own unique qualities & powers. The trouble with most people's diet is that we eat such a limited number of foods. It increases our chances of not getting enough of important nutrients.

14. Naturally Organic
Kiwifruit is on the list of foods that are generally safe from a lot of pesticide residues. For 2012 it came in with the top 10 safest foods. While it is always good to support organic when you can as a matter of principle, it's also good to know whether there is a big danger if organic is not available or viable for you.
NEW STUDY INCREASES HEALTH EVIDENCE FOR KIWIFRUIT CONSUMPTION
14 April 2016
New research conducted by Plant & Food Research has found that consumption of Kiwifruit, in addition to previously known health effects, may also significantly slow & reduce the uptake of sugars into the bloodstream.
The research studied the glycaemic impact on people who ate kiwifruit with their breakfast, & found that people who ate kiwifruit with their breakfast saw more regulated blood sugar levels.
"It's an interesting discovery" says Plant & Food Research Scientist Dr John Monro.
"We suspect that fibre in kiwifruit behaves differently to other commonly eaten fibres.
When eaten, it swells & thickens in the stomach, which may account for the slower absorption of sugars".
Zespri's Innovation Leader for Health & Nutrition, Dr Juliet Ansell says that kiwifruit have long been known for being high in fibre & vitamin C, but this new finding provides additional evidence for the health promoting qualities of the fruit.
The research was conducted by Plant & Food Research & forms part of the science aligned to the High Value Nutrition National Science Challenge.
Serving size: 1 kiwifruit - 90g
| | Avg Quantity per serving | Avg Quantity per 100g |
| --- | --- | --- |
| Energy (kJ/Cal) | 369/88 | 250/60 |
| Protein (g) | 1.7 | 1.2 |
| Fat, total (g) | 1.0 | 0.7 |
| - saturated (g) | 0.13 | 0.09 |
| carbohydrate (g) | 13.5 | 9.1 |
| - sugars (g) | 13 | 8.8 |
| Fibre (g) | 4.4 | 3.0 |
| Sodium (mg) | 3 | 2 |
| Vitamin C (mg) | 126 | 85 |
Source: The Concise New Zealand Food Composition Tables, 12th Edition, Plant & Food Research 2018
Write a review
Note:
HTML is not translated!