Sale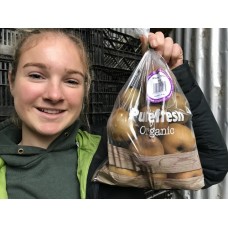 zoom
Price:
$7.10
$6.80
Ex Tax: $5.91
0 reviews
Write a review
Certified Organic - BioGro #2392
Sweet, aromatic, refreshing
Round fruit with yellow-green skins covered in russet patches.
One of the most commonly grown varieties in New Zealand.
Pears are full of fibre, pectin (helps lower cholesterol levels) & sodium. Sodium helps eliminate carbon dioxide waste from your lungs.
The sweet health snack.
Try poaching some peeled pears in a sweeter white wine such as pinot gris or riesling, along with a good amount of sugar, a cinnamon stick, some lemon or orange peel & a little honey, until the pears are tender... You might want to keep them whole, or slice them lengthways & scoop out the cores.

Pears provide a very good source of fiber & are also a good source of vitamin B2, C, E, copper, & potassium
---
Source: The Concise New Zealand Food Composition Tables, 12th Edition, Plant & Food Research 2018
Write a review
Note:
HTML is not translated!