Sale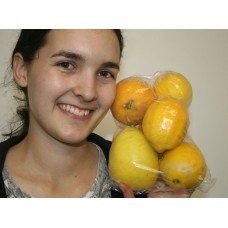 zoom
Price:
$6.20
$5.90
Ex Tax: $5.13
0 reviews
Write a review
Juicy, Fresh picked Lemons. Not Waxed.
Lemons are the superheroes of alkalizing your blood.
Lemons are packed with Vitamin C, which increases the body's white blood cell count, reinforcing the immune system.
The acidic nature of lemons also helps to break down mucus & kill germs.
Lemons add zesty flavour to many meals.
Lemon juice prevents cut apples, pears & avocados from turning brown.
You can eat lemon in different ways... eat the pulp, press the juice, prepare drinks, sorbets, pastries, etc.
Have divine citrus aroma, which will invigorate your soul.
Lemons are great tenderisers, flavour enhancers, go with both savoury & sweet or tart & make a great cocktail
Starting a day with lemon juice and hot water is a powerful way to wake up your digestive system & set your digestion up for maximum nutrient absorption.
Many professionals in restaurants & eateries are using & consuming the entire lemon & nothing is wasted...
Simply place the washed lemon in the freezer section of your refrigerator... once the lemon is frozen, get the grater,& shred the whole lemon (no need to peel it).

Sprinkle it on your vegetable salad, ice cream, soup, cereals, noodles, spaghetti sauce, rice, sushi, fish dishes, whisky... the list is endless... all of the foods will unexpectedly have a wonderful taste.

Meyer Lemons, named after their identifier Frank N Meyer in 1908... they are thought to be a cross between a lemon & a mandarin & have a sweeter, more floral taste than the likes of Yen Ben Lemons

Lemon peel contains as much as 5-10 times more vitamins than the lemon juice itself.
Lemon peels are health rejuvenators in eradicating toxic elements in the body.
We NEVER sell imported lemons ever!
So here's a couple of really handy things to do with lemons,
Marinades
I love to marinate lamb leg with squeezed lemons, smashed garlic, thyme, salt, pepper & olive oil overnight. Pull it out of the marinade and straight onto the BBQ.
Dressings
Simply zest a lemon into a bowl with the juice, a tsp of mustard, 1 tsp of apple syrup & whisk in olive oil.
Finish your Hollandaise, mayonnaise or salsa with a splash of lemon to lift & elevate the flavours whilst removing any oily aftertastes.
Raw seafood
Slice your fish fish nice & thin and squeeze lemon juice over the top allow to sit for 5 minutes before finishing with olive oil, salt & pepper.
Cut fish into cubes & squeeze lemon juice over the top & allow to sit for 10 minutes before lightly pressing out & tipping in a can of coconut cream chopped coriander, red onion & cherry tomatoes.
Stuffing, Just cut lemons in half & place in to the cavity of your chicken or duck before cooking. Once cooked, pull out & squeeze into the gravy for a wonderful flavour.
Then you have desserts...
Lemon souffle, lemon curd, lemon cheesecake, lemon sponge cake, lemon ice-cream, lemon mousse - there's endless options.
BBQ cleaner
Just cut it in half & run the cut side up & down your grill to clean & flavour your BBQ rack!
Click Here:
16 Health benefits of lemons
Nutrition Information
Serving size: 1 medium lemon - 65g
| | Avg Quantity per serving | Avg Quantity per 100g |
| --- | --- | --- |
| Energy (kJ/Cal) | 52/12 | 80/19 |
| Protein (g) | 0.4 | 0.6 |
| Fat, total (g) | 0.2 | 0.3 |
| - saturated (g) | 0 | 0 |
| carbohydrate (g) | 1.4 | 2.1 |
| - sugars (g) | 1.4 | 2.1 |
| Fibre (g) | 1.8 | 2.8 |
| Sodium (mg) | 2 | 3 |
| Vitamin C (mg) | 34 | 52 |
Source: The Concise New Zealand Food Composition Tables, 12th Edition, Plant & Food Research 2018
Write a review
Note:
HTML is not translated!