Sale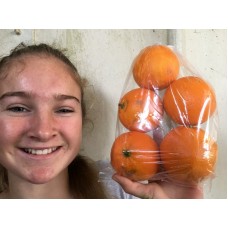 zoom
Price:
$4.30
$4.00
Ex Tax: $3.48
Product Code:
FOrangeNavelinaBagKatikati
Availability:
In Stock
0 reviews
Write a review
Sweet, Juicy.
Squeeze your own orange juice, as 90% of the vitamin C content of commercial orange juice is lost during processing
Fresh juice is delicious & frozen orange juice retains most of the nutrients.
Add Oranges to your meals for an unexpected & sweet surprise.

Add Orange slices to your salads, on top of stir-fry dishes & even to cakes

When cooking Navelina Oranges add them at the last minute, as cooking them too long can cause them to turn bitter.

Don't freeze juice from Navelina Oranges because the cold, like heat, can cause it to turn bitter.

To get the most juice out of an orange, warm the fruit to room temperature, then roll it on the counter with your palm before squeezing.
We NEVER sell imported oranges ever!
Write a review
Note:
HTML is not translated!