Sale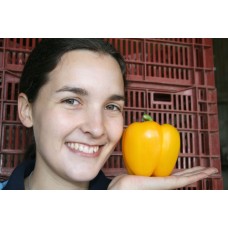 zoom
Price:
$2.80
$2.50
Ex Tax: $2.17
Product Code:
VCapsicumYELLOW
Availability:
In Stock

0 reviews
Write a review
Contains the vitamin C of oranges.
Low in calories.
Cholesterol, Sodium & Fat free.
High in antioxidants.
We never sell imported Capsicums from Australia EVER!.
Capsicums are known for their pungent flavour in food, due to a plant chemical called capsaicin.
Interestingly, this is the chemical used in pepper spray for law enforcement.
Levels of capsaicin in capsicums will vary depending on a range of factors such as weather, growing conditions, & age.
Capsicums is known to have anti-inflammatory & pain relief properties, & has been used to treat conditions including skin rashes, stomach ache & arthritis.
It is also commonly used in muscle rub-down creams to help alleviate pain.
Along with the above properties capsicums are a good source of Vitamin C, & contain carotenes & B vitamins.
---
Nutrition Information
Serving size: 1/2 capsicum - 75g
Average
Quantity
per serving
% Daily
intake per
serve
Average
Quantity
per 100g
Energy (kJ/Cal)
89/21
1%
119/28
Protein (g)
0.7
1%
0.9
Fat, total (g)
0.2
1%
0.9
- saturated (g)
0.03
0%
0.04
Carbohydrate (g)
3.1
1%
4.9
- sugars (g)
3.6
4%
4.8
Dietary fibre (g)
1.1
4%
1.5
Sodium (mg)
0
0%
0
Vitamin C (mg)
81
203% RDI*
108
A good source of vitamin C
Folate (µg)
32
16% RDI*
43
A good source of folate
Vitamin B6 (mg)
0.25
15% RDI*
0.33
A good source of vitamin B6

Percentage Daily Intakes are based on an average adult diet of 8700 kJ
Your daily Intakes may be higher or lower depending on your energy needs.
*Recommended Dietary Intake (Average Adult)

Source: The Concise New Zealand Food Composition Tables, 12th Edition, Plant & Food Research - 2018
Write a review
Note:
HTML is not translated!