Sale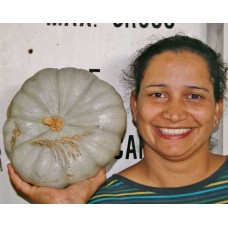 zoom
Price:
$6.90
$6.50
Ex Tax: $5.65
Product Code:
VPumpkinONE
Availability:
In Stock
0 reviews
Write a review
Pumpkin is a storehouse of many anti-oxidant vitamins such as vitamin A, vitamin C & vitamin E.
The brighter & stronger the colour of the flesh, the healthier it will be for you
Pumpkins are a hybrid variety

There is no reason to force yourself to eat an entire pumpkin at one sitting... when frozen in a freezer proof container, pumpkin retains virtually all its goodness & nutrition
Store Pumpkins at 12-14 degrees Celcius with an 85% relative humidity.
It is one of the very low calorie vegetables. 100grams provides just 26 calories & contains no saturated fats or cholesterol; however, it is rich in dietary fibre, anti-oxidants, minerals, vitamins.
The pumpkin is one of the food items recommended by dietitians in cholesterol controlling & weight reduction programs.
Pumpkin is a storehouse of many anti-oxidant vitamins such as vitamin A, vitamin C & vitamin E.
TRY THESE IDEAS WITH PUMPKIN:
Roasted in olive oil & chopped parsley, sage & rosemary

Soup with diced chilli & chopped mint

Baked wedges topped with blue cheese & roasted pinenuts

Boiled & mashed with white miso & lime zest

Diced, roasted in salads with green leaves & feta with a lime, ginger, garlic & coriander dressing

Sliced, baked & used in a panini with spinach & swiss cheese

Mini varieties stuffed with diced vegetables, baked topped with mozzerella

Boiled & mashed with orange juice, yogurt & freshly ground pepper.

Diced for pastas & risottos

Steamed & mashed with Onion Marmalade & ground cinnamon

Wedges roasted with potatoes, kumara, carrots, turnips & swedes for roast meals

Baked & mashed in pies, muffins, cakes, breads & loafs
Pumpkins like warm & spicy flavours, so that means more cumin, coriander, ginger, nutmeg, paprika, allspice, curry spices, cinnamon & herbs: basil, thyme, rosemary, sage, parsley.
Use pumpkin to replace oil in brownies & butter in other recipies to keep your recipies low calorie & delicious & your belly flat.
---
Click Here:
Nutrition Information
Source: The Concise New Zealand Food Composition Tables, 12th Edition, Plant & Food Research - 2018
Write a review
Note:
HTML is not translated!