Sale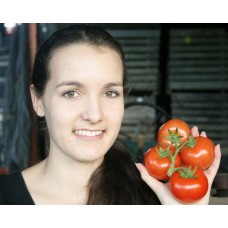 zoom
Price:
$2.80
$2.50
Ex Tax: $2.17
Product Code:
FTrussTomatoes500
Availability:
In Stock
0 reviews
Write a review
Eat them raw in salads & sandwiches, or cooked on pizzas, in a pasta sauce, in casseroles, grilled or baked.
Great in soup, delicious in omelettes & great when made into sauces, homemade chutney.
Eat raw with a little olive oil or other oil - for example in a salad dressing (to increase absorption vitamin A precursors & other health benefits). For a more intense flavour & better colour keep tomatoes out of the fridge
Ideal for Sauce, Soup, Relish, Chutney.
We never sell imported Tomatoes from Australia ever.
Tomatoes contain a red pigment in large quantities called lycopene - an anti-oxidant know to protect against prostate cancer.
If you eat a tomato with a little bit of fat, like olive oil, you will absorb the lycopene better.
Scientists believe that older men could avoid frequent & sleep disturbing visits to the toilet by the simple expedient of eating more tomatoes.
Researchers say that lycopene, a nutrient which gives tomatoes their colour of red, could ease & help the affliction which is suffered by millions of older men.
Lycopene is capable of slowing down the enlargement of the prostate which causes the condition. The study was published in the online journal: Oncology and Cancer Case Reports & was based on a review of 67 research studies.
As men become older many suffer an unexplained expansion of the prostatem, a gland which is wrapped around the urinary tract. It is then that the thicker prostate constricts the tube & can block it altogether. This causes a condition called benign prostate hyperplasia (BPH).
Proffessor Hiten Patel, Bart's & The Royal London Hospital, led the team which reviewed the research. "We know lycopene appears to slow down development of the prostate cancer. Now it seems capable of slowing down prostate enlargement & development of benign prostatic hyperplasia (BPH) as well" he said.
---
Click Here:
Soup Recipe
Health benefits of tomatoes
Nutrition Information
Serving size: 1 tomato - 127g
Average
Quantity
per serving
% Daily
intake per
serve
Average
Quantity
per 100g
Energy (kJ/Cal)
105/25
1%
83/20
Protein (g)
1.0
2%
0.8
Fat, total (g)
0.5
0.7%
0.4
- saturated (g)
trace
0%
trace
Carbohydrate (g)
3.4
1%
2.7
- sugars (g)
3.4
4%
2.7
Dietary fibre (g)
1.5
5%
1.2
Sodium (mg)
1
0%
1
Vitamin C (mg)
30.5
76% RDI*
24.0
A good source of vitamin C
Vitamin A Equiv. (µg)
117
16% RDI*
92
A source of vitamin A Equiv.
Niacin (mg)
1.3
13% RDI*
1.0
A source of niacin
Potassium (mg)
305
240
Contains potassium
Vitamin E (mg)
0.98
10% RDI*
0.77
A source of vitamin E
Riboflavin (mg)
trace
0% RDI*
trace

Percentage Daily Intakes are based on an average adult diet of 8700 kJ
Your daily Intakes may be higher or lower depending on your energy needs.
*Recommended Dietary Intake (Average Adult)

Source: The Concise New Zealand Food Composition Tables, 10th Edition, Plant & Food Research - 2014
Write a review
Note:
HTML is not translated!