Sale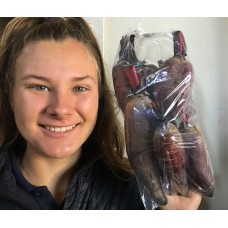 zoom
Price:
$4.30
$4.00
Ex Tax: $3.48
0 reviews
Write a review
CARROT SHAPED CYLINDRA BEETROOT is made for slicing & pickling!
Maintains its sweetness & tenderness.
Lovely roasted, baked steamed, added to salads or as side dishes.
Helps Purify the blood.
Beetroot is known for their cleansing properties that are loaded with powerful anti-oxidants that help detoxify the liver & kidneys.
In many cultures the belief persists that if a man & a woman eat from the same beetroot then they will fall in love.
Aids in skin & glandular systems.
High Antioxidant Potency.
The colour of beetroot is due to phytonutrients called betalains, which are sometimes not completely removed in the digestive process & can be an alarming but harmless reminder of last night's meal featuring beetroot
If you become victim to beetroot staining, rub some fresh lemon over your hands, & it will come right off.
Beetroot contains betaine, a substance that relaxes the mind & is used in other forms to treat depression.

It also contains trytophan, which is also found in chocolate & contributes to a sense of wellbeing.
Beetroot can be partnered up with basil, mint, coriander, dill, fennel, sage, thyme & oregano.
Beetroot also likes these spices - Cumin, allspice, cloves, caraway & ginger.
Nutrition Information:
Source: The Concise New Zealand Food Composition Tables, 12th Edition, Plant & Food Research 2018
Write a review
Note:
HTML is not translated!