Sale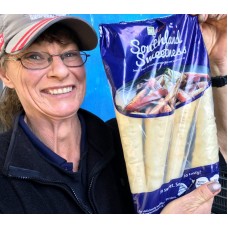 zoom
Price:
$4.30
$4.00
Ex Tax: $3.48
Brand:
So Fresh Produce
Product Code:
VParsnipBAGSOUTHLAND
Availability:
In Stock
0 reviews
Write a review
Parsnips are generally eaten cooked, although grated/shredded parsnip will add flavour to coleslaws
Can be steamed, microwaved, boiled or sauteed.
Delicate, sweet & slightly nutty flavour.
Oven roast until tender on inside and crisp on outside... parsnips take on a sweet caramel flavour with this type of cooking
Tasty in stir fry, salad, pies, soup, souffles.
Medium Size
Refrigerate in plastic bags.
Parsnips popularity has grown in recent years as more uses are found for the vegetable in salads & fusion-style cooking
Parsnips are amongst the sweetest vegetables & were used as a sweetener before the sugar industry was established during the 19th century. The juices were evaporated & the residue used as honey - much as we would golden syrup today.

The parsnip is a root vegetable & belongs to the carrot family.
If you have a sweet tooth, parsnips can extend their range into brunch.

When roasted or sautéed the sugars caramelise richly.

Parsnips are so sweet that they were used in cakes & jams before the arrival of cane sugar, & yes, I have enjoyed a parsnip cake.
Parsnip cake, similar in taste to carrot cake, is wonderful
Pureed parsnip can be made into a tasty dip by combining with soaked white bread, garlic & plenty of extra virgin olive on it

High oven temperatures intensify the flavour of the natural sugars in parsnips.
They are great for sweetening up winter soups & make a delicious mash or puree to serve with meat & fish
Parsnips contain more vitamins & minerals than their close relative carrots, being particularly rich in potassium, a vital element for nerve, muscle & bone growth.
Pair parsnips with complementary foods & assertive herbs & spices like horseradish, chillies, cardamom, coriander, turmeric, cumin, ginger, mustard, tarragon & rosemary & this root will shine as a dish all on its own, & provide a great foil for fatty meats.
Parsnips (Pastinacea sativa) have been eaten since ancient times.

Cultivated forms developed from wild parsnip which is believed to be native to Europe.

According to Pliny, Emperor Tiberius was so fond of parsnips that he had them brought annually to Rome from Germany where they grew along the Rhine.

By the 16th century parsnip was cultivated in Germany, England &, shortly after, in the American colonies.

It was a staple of the poorer people of Europe & was used as sugar substitute before sugar & beet were available.
In 1730, Tournefort wrote of wild parsnip's 'agreeable taste & wholesomeness' especially 'if first nipt with cold'.

Parsnip seeds were collected for their medicinal value & sold by herbalists.

Culpeper wrote that garden parsnip is 'good for the stomach & reins & provoketh urine.' In the mid-nineteenth century parsnip was replaced as the main source of starch by the potato & its use subsided.
Parsnips like chives, fennel seeds, parsley, thyme, coriander, chilli, turmeric & cumin.
---
Click Here:
Parsnip Recipes
Parsnips contain a wide variety of vitamins, minerals and nutrients, including dietary fiber, folate, potassium and vitamin C
Nutrition Information
Serving size: 1 cup sliced - 133g
Average
Quantity
per serving
% Daily
intake per
serve
Average
Quantity
per 100g
Energy (kJ/Cal)
313/75
4%
235/56
Protein (g)
1.3
3%
1.0
Fat, total (g)
0.4
1%
0.3
- saturated (g)
0.06
0%
0.04
Carbohydrate (g)
13.7
4%
10.3
- sugars (g)
7.8
9%
5.9
Dietary fibre (g)
5.3
18%
4.0
Contains dietary fibre
Sodium (mg)
3
0%
2
Niacin (mg)
2
20% RDI*
1.5
A source of niacin
Potassium (mg)
532
400
Contains potassium
Vitamin C (mg)
4
11% RDI*
3
Iron (mg)
0.3
2% RDI*
0.2
Thiamin (mg)
0.08
7% RDI*
0.06
Riboflavin (mg)
0.07
4% RDI*
0.05

Percentage Daily Intakes are based on an average adult diet of 8700 kJ
Your daily Intakes may be higher or lower depending on your energy needs.
*Recommended Dietary Intake (Average Adult)

Source: The Concise New Zealand Food Composition Tables, 12th Edition, Plant & Food Research - 2018
Write a review
Note:
HTML is not translated!