Sale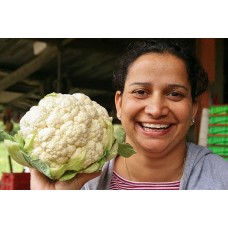 zoom
Price:
$5.80
$5.50
Ex Tax: $4.78
Product Code:
VCauliflowerMedium
Availability:
In Stock
0 reviews
Write a review
Taste delicious raw or slightly steamed, boiled or stir- fried.
To steam cauliflower florets, steam for 6 min or boil for 8 -10 minutes.
Use cauliflower like broccoli... they are good eaten together.
Great with a cheese or white sauce, added raw or lightly cooked to salads, made into pickles, added to soups, casseroles & stir-fries.
Good as Crudites, either raw or blanched, served with dip or dipping sauce.
Amazing in soups, stews, curries
White, Fresh Cut.
Cauliflower, from the Latin word meaning 'cabbage flower'
Cauliflowers is highly nutritious & great for detoxing, it is full of antioxidants & a great anti-inflammatory.
Cauliflower is inexpensive & can be prepared in a variety of ways including cauliflower "mash", cauliflower "rice", roasted & with potato in curries.

Cauliflower Puree makes a substitute for mashed potato.

Make a gluten-free pizza crust with grated cauliflower bound with egg & a little cheese, flavoured with herbs.
Cauliflower is full of sulfur & glutathione, which help in the detoxification process, especially when eaten raw.
Like most vegetables, cauliflowers packs its best health punch when eaten raw or just lightly cooked - so stir-frying, lightly steaming or eating raw is best.

Raw or just blanched cauliflowers is fantastic as a vegetable crudite, with a delicate taste & crunchy texture.
Cauliflower's high phytochemical (natural plant chemicals) content, specifically isothiocyanates, is thought to reduce the risk of certain cancers in several ways, including protecting cells from DNA damage & inactivating carcinogens (cancer-causing substances).
It is these protective sulphar-containing pytochemicals that are responsible for the slightly pungent aroma of cruciferous vegetables.

Store at 0ºC with a relative humidity of 90-100%. Cauliflower is ethylene sensitive so store separately from ethylene producing vegetables & fruits wherever possible.
---
Cauliflower Smoothie & Cauliflower Couscous Video Recipe
Nutrition Information
Serving size: ½ cup, chopped - 69g
Average
Quantity
per serving
% Daily
intake per
serve
Average
Quantity
per 100g
Energy (kJ/Cal)
68/16
0.8%
99/24
Protein (g)
1.3
3%
1.9
Fat, total (g)
0.1
0.2%
0.2
- saturated (g)
trace
0%
trace
Carbohydrate (g)
1.9
0.6%
2.7
- sugars (g)
1.8
2%
2.6
Dietary fibre (g)
1.2
4%
1.8
Sodium (mg)
5
0.2%
7
Vitamin C (mg)
38
95% RDI*
55
A good source of vitamin C
Folate (µg)
30
15% RDI*
44
A source of folate
Vitamin B6 (mg)
0.14
9% RDI*
0.2
Niacin (mg)
0.7
7% RDI*
1
Iron (mg)
0.3
2% RDI*
0.4
Potassium (mg)
173
250

Percentage Daily Intakes are based on an average adult diet of 8700 kJ
Your daily Intakes may be higher or lower depending on your energy needs.
*Recommended Dietary Intake (Average Adult)

Source: The Concise New Zealand Food Composition Tables, 10th Edition, Plant & Food Research - 2014
Write a review
Note:
HTML is not translated!