Sale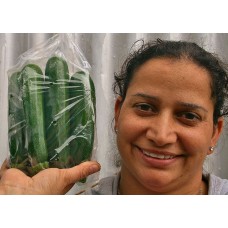 zoom
Price:
$3.80
$3.50
Ex Tax: $3.04
Product Code:
VCourgettes500
Availability:
In Stock
1 reviews
Write a review
Cook for just a few minutes to maximise the health benefits, & add a splash of a healthy oil to maximise absorption of the carotenoids.
Courgettes are great in fritters, frittatas, quiches, cakes, soups, pickle.
Steam, Boil, Microwave, Bake, Braise, Stir-fry, Stew, Roast, Stuffed, Barbecued or Grill Courgettes.
Courgette slices require 5-7 minutes to steam
Particularly good in stir fries & barbecues or filled with a savoury stuffing & baked.
Use raw in salads... Can also be grated or finely chopped & used in flans or quiches.
Like Carrots, they also make delicious, moist cakes & breads.
Courgettes originated in Italy & were popular in the Mediterranean region hundred of years before they became popular in the rest of the western world
Refrigerate in plastic bags, Use promptly
Courgettes contain very few calories & have a high water content, which makes them a dieter's friend.
They aren't a powerhouse of micronutrients, but they do provide useful amounts of immune system-boosting vitamin C, & significant levels of potassium, which is key to controlling blood pressure.
The soluble fibre in the skin slows down digestion, & so stabilises blood sugar & insulin levels. Soluble fibre also helps prevent constipation & relieves irritable bowel symptoms.
Courgettes are the 14th most popular vegetable in New Zealand.
Courgettes are an excellent source of luetin, a carotenoid nutrient known for it's powerful anti-oxidant power.
Try these ideas with courgettes:
Saute slices with pinenuts & lemon zest
Slice lengthwise, chargrill & use in wraps, sandwiches, rolls & baps
Slice, drizzle with olive oil & sprinkle with sesame seeds & roast
Grate or julienne & use in salads, omelettes & frittatas
Finely sliced & stirred through wholemeal pasta & top with grated parmesan
Spread toasted ciabatta with tahini & yoghurt & top with char grilled
courgette slices
Saute courgette 'noodles' with garlic & basil
Make into soup with minced lemon grass & chilli sauce
Braise chunks with chopped onions & olive oil, stir through baby spinach at the end of cooking
Grate & use in cakes, muffins, loaves & pizza bases
Make into pickles with onion, turmeric & yellow mustard seeds
Grate & use in fritters with feta or bacon
Coat thin slices with tempura batter & fry
Steam, whole or in chunks & serve topped with wasabi mayo
Sliced with sliced eggplant & tomato baked with a little olive oil & rosemary in ramekins
Mix grated courgette & cheddar with quinoa & use as a filling for filo pastry pass-arounds
---
Nutrition Information
Serving size: ½ cup diced - 111.8g
Average
Quantity
per serving
% Daily
intake per
serve
Average
Quantity
per 100g
Energy (kJ/Cal)
63/15
0.7%
56/13
Protein (g)
2.0
4%
1.8
Fat, total (g)
0.2
0.3%
0.2
- saturated (g)
trace
0%
trace
Carbohydrate (g)
0.7
0.2%
0.6
- sugars (g)
0.7
0.7%
0.6
Dietary fibre (g)
1.2
4%
1.1
Sodium (mg)
0
0%
0
Vitamin C (mg)
12.3
31% RDI*
11.0
A good source of vitamin C
Folate (µg)
25
12% RDI*
22
A source of folate
Niacin (mg)
11
11% RDI*
1
A source of niacin
Potassium (mg)
413
370
Contains potassium
Vitamin E (mg)
0.91
9% RDI*
0.81
Vitamin A Equiv. (µg)
55
7% RDI*
49
Iron (mg)
0.6
5% RDI*
0.5
Thiamin (mg)
trace
0% RDI*
trace
Riboflavin (mg)
trace
0% RDI*
trace

Percentage Daily Intakes are based on an average adult diet of 8700 kJ
Your daily Intakes may be higher or lower depending on your energy needs.
*Recommended Dietary Intake (Average Adult)

Source: The Concise New Zealand Food Composition Tables, 10th Edition, Plant & Food Research - 2014
Write a review
Note:
HTML is not translated!