Sale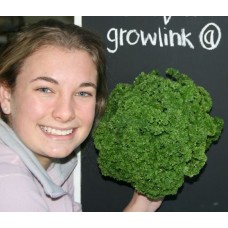 zoom
Price:
$3.20
$2.90
Ex Tax: $2.52
Brand:
Karin's Produce
Product Code:
VParsleyBunchSMALL
Availability:
In Stock
0 reviews
Write a review
Has great texture, colour, & flavour
Can be used in most salads, vegetables, soups, stews, dressings, meat & fish dishes.
Parsley contains one of the most concentrated forms of Vitamin C of any food.
It's great to load up your meals with this herb throughout winter to give you the extra immunity boost you need.
A phenomenal tasting herb, rich in vitamins K & C and is also highly alkaline.
Daily consumption of parsley will help ward off Cardiovascular disease, fluid retention & inflammatory disorders.
Parsley will also assist kidney & urinary health.

Many of us add salt to boiling water when cooking pasta. If you're trying to cut back on salt to reduce water-weight gain or control blood pressure, call on parsley.

Omit the salt when cooking noodles, & instead flavour the water, or the cooked pasta, with chopped parsley.
Parsley tea makes a healthy tonic
---
Nutrition Information
Serving size: ½ medium parsnip - 80g
Average
Quantity
per serving
% Daily
intake per
serve
Average
Quantity
per 100g
Energy (kJ/Cal)
192/46
2%
240/57
Protein (g)
0.8
2%
1.0
Fat, total (g)
0.4
0.6%
0.5
- saturated (g)
trace
0%
trace
Carbohydrate (g)
8.4
3%
10.5
- sugars (g)
4.6
5%
5.8
Dietary fibre (g)
3.2
11%
4.0
Contains dietary fibre
Sodium (mg)
2
0%
2
Niacin (mg)
1.6
16% RDI*
2
A source of niacin
Potassium (mg)
320
400
Contains potassium
Vitamin C (mg)
2.6
7% RDI*
3.3
Iron (mg)
0.16
1% RDI*
0.2
Thiamin (mg)
trace
0% RDI*
trace
Riboflavin (mg)
trace
0% RDI*
trace

Percentage Daily Intakes are based on an average adult diet of 8700 kJ
Your daily Intakes may be higher or lower depending on your energy needs.
*Recommended Dietary Intake (Average Adult)

Source: The Concise New Zealand Food Composition Tables, 10th Edition, Plant & Food Research - 2014
Write a review
Note:
HTML is not translated!