Sale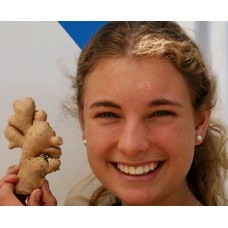 zoom
Price:
$2.80
$2.50
Ex Tax: $2.17
Product Code:
VGinger
Availability:
In Stock
0 reviews
Write a review
Ginger is a tuberous vegetable with brown skin & pale yellow flesh.

It has a pungent, spicy aroma & characteristic taste.
The taste that ginger imparts to a dish depends upon when it is added during the cooking process.

Added at the beginning, it will lend a subtler flavour while added near the end, it will deliver a more pungent taste
Keep in a cool dry place, away from sunlight.
Generally peeled & finely chopped, sliced or grated.
Provides a wonderful flavour for stir-fries, salads, fruit crumbles, soups, in marinades.
Is a good accompanying flavour for pork, beef, chicken & fish.
Ginger can be added to almost any meal for flavouring, in place of sugar dense bottle sauces
Ginger is a great way to ward off change of season colds: if you are looking for ways to boost your ginger intake try grating some into a mug of boiling water along with some lemon juice or add a 1cm cube into any fresh pressed juice.
Traditionally ginger has been used to alleviate symptons of gastrointestinal distress & nausea, helps with motion sickness.

Ginger can improve digestion, reduces respiratory problems, lowers cholesterol, helps prevent migraines & blood clots, along with fighting ovarian cancer & helps relieve arthritis.
Ginger is also believed to have anti- inflammatory properties due to its antioxidant capacity.

Available all year round.
Ginger naturally contains pain-killing & anti-nausea compounds.
If you can handle the spice, it makes an excellent remedy for an upset stomach.

Mix hot water with a few slices of fresh ginger & a squeeze of lemon & honey for a warming hot ginger tea, or add a knob of ginger to your juicer next time you are making a carrot & orange juice.

It is a Proven anti-vomiting agent & can be a very useful natural remedy in pregnancy for reducing nausea.
Ginger helps work fantastically for circulation, clearing sinuses & can help prevent the spasms that come with a dry cough.

---
Click Here:
Roasted Vegetable Soup Recipe

Nutrition Information
| | Avg Quantity per 100g |
| --- | --- |
| Energy (kJ) | 281.86 |
| Protein (g) | 1.75 |
| Fat, total (g) | 0.73 |
| - saturated (g) | 0.232 |
| carbohydrate (g) | 12.3 |
| - sugars (g) | 4.4 |
| Fibre (g) | 2 |
| Sodium (mg) | 13 |
Source: The Concise New Zealand Food Composition Tables, 8th Edition, Plant & Food Research
Write a review
Note:
HTML is not translated!