Sale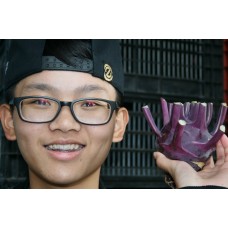 zoom
Price:
$1.80
$1.50
Ex Tax: $1.30
0 reviews
Write a review
Kohlrabi can be eaten/juiced in its uncooked form or cooked with other vegetables.
Kohlrabi is pronounced 'cole-rah-bee'
Kohlrabi ia an underrated, unusual member of the cabbage family, which forms a swollen, ball-like root just above soil level.
The mild flavour makes kohlrabi a popular vegetable with children, as does its slightly weird apperance.

It can be eaten in a variety of ways -

1. Sliced thin & eaten raw. When raw, kohlrabi is slightly crunchy & mildly spicy, like radishes. You can toss them in a salad or eat them on their own with a drizzle of good olive oil & a sprinkling of sea salt.
2. Made into fritters. This is a great way to get kids to eat their kohlrabi! Shred the vegetable & mix with an egg & a few tablespoons of flour. Heat oil or butter in a flat skillet, drop on small mounds, & flatten slightly with the back of your spatula. Turn after a few minutes, & serve when both sides are crispy.
3. In soup. We particularly like kohlrabi in a creamy, pureed soup with mild spices so that sweet kohlrabi flavour can really shine through. Also, try adding it to recipes for Cream of Potato, Cream of Broccoli, & even Cream of Mushroom soup!
4. Roasted. When roasted in the oven, the outside of the kohlrabi caramelizes, & the flavor sweetens & mellows. You can slice the kohlrabi thin for toasted "chips" or cube it. We like to toss it with other roasted veggies like eggplant & potatoes for a hearty side dish.
5. Steamed. This is kind of a cheat-suggestion because kohrabi can be used in literally anything once steamed. We throw steamed kohlrabi into frittatas, stir-fries, & pasta dishes. We also like to puree it with a little cream & simple spices

Kohrabi is found in a lot of Indian cooking, so it naturally does well with traditional Indian spices. Honestly, though, we tend to prefer it seasoned with just a nice sprinkling salt!

Kohlrabi, is low in cholesterol & saturated fat.

Although it looks like a root, it is actually a "swollen stem" that grows above the ground. The texture of kohlrabi is similar to that of the broccoli's stem, but is sweeter & milder in taste with a tinge of radish.

To store, trim off the leaves & store unwashed, in a plastic bag in the fridge. Eat within the week.

Kohlrabi is one of the few foods that is both nutritious & filling. This makes it one of the better choices for weight loss. It also has an abundance of essential nutrients per calorie which makes it a healthier choice over other foods.

If you need an instant immune system boost, then try snacking on a cup of raw Kohlrabi.

Of all the vitamins in kohlrabi, vitamin C is the most abundant.

Kohlrabi is considered one of the healthiest foods

Kohlrabis grow above ground & are thus
exposed to more sunlight than the below ground vegetables

In the German language, it means "cabbage turnip." This aptly describes the family it came from--cabbage. Kohlrabi's appearance is almost a cross between a cabbage & a turnip. It has a turnip-shaped overgrown stem--the commonly eaten part--with leaves sprouting from it. There are several ways to prepare a kohlrabi. It can be eaten raw, grilled or stir-fried
When preparing kohlrabi for juicing, wash it clean & cut it up to the size that fits your juicer chute. No skin to peel. Mixes well with any greens & root vegetables.
Kohlrabi contains thiamin vitamins which contribute to normal brain function. Thiamin is needed for heart function & helps the body to release energy from food
Nutrition Information
Serving size: 1 cup sliced - 165g
Average
Quantity
per serving
% Daily
intake per
serve
Average
Quantity
per 100g
Energy (kJ/Cal)
45/185
0.50%
27.112
Protein (g)
2.69
5.40%
1.63
Fat, total (g)
0.17
0.20%
0.1
- saturated (g)
0.021
0.01%
0.013
Carbohydrate (g)
5.06
1.60%
3.07
- sugars (g)
4.9
5.40%
2.97
Dietary fibre (g)
5.94
19.80%
3.6
Sodium (mg)
181.5
7.90%
110
Vitamin C (mg)
44.55
111% RDI*
27
A good source of Vitamin C
Folate (µg)
26.4
13.2% RDI*
16
A source of Folate
Thiamin (mg)
0.132
12% RDI*
0.08
A source of Thiamin
Vitamin B6 (mg)
0.19
11.8% RDI*
0.11
A source of Vitamin B6
Potassium (mg)
396
240
Contains Potassium
Niacin (mg)
0.66
6.6% RDI*
0.4
Calcium (mg)
34.65
4.3% RDI*
21
Iron (mg)
0.33
2.8% RDI*
0.2
Zinc (mg)
0.17
1.4% RDI*
0.1
Riboflavin (mg)
0.017
1% RDI*
0.01
Selenium (µg)
0.83
0.1% RDI*
0.5
Vitamin E (mg)
0
0% RDI*
0
Vitamin A Equiv. (µg)
0
0% RDI*
0

Percentage Daily Intakes are based on an average adult diet of 8700 kJ
Your daily Intakes may be higher or lower depending on your energy needs.
*Recommended Dietary Intake (Average Adult)

Source: The Concise New Zealand Food Composition Tables, 10th Edition, Plant & Food Research - 2014
Write a review
Note:
HTML is not translated!