Sale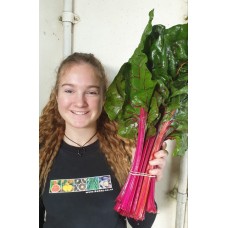 zoom
Price:
$1.30
$1.00
Ex Tax: $0.87
Product Code:
VRedChard
Availability:
In Stock

0 reviews
Write a review
Similar to silverbeet and is also similar to spinach but has a stronger flavour.
Shred Red chard & add raw to salads. Alternatively, slice & use in stir-fries, curries, quiches, soups or as part of a side dish.
Suits quick cooking methods like stir fry, steaming or microwaving.
Refrigerate in plastic bags.
Contains iron & good source of potassium, fibre, & vitamins A, C & B group.
Cook red chard as briefly as possible to retain maximum nutrient content
Freshly picked
Red chard surprisingly, has more available calcium than cow's milk. Calcium is essential for healthy bones, so red chard is a good choice for those who want the calicum without the calories, or are allergic to dairy products.
Write a review
Note:
HTML is not translated!