Sale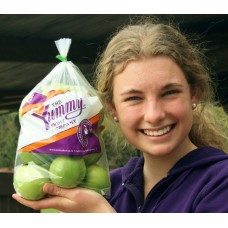 zoom
Price:
$7.10
$6.80
Ex Tax: $5.91

0 reviews
Write a review
Excellent for apple pie, crumble, sauce & soup or add these green apples to cheeseboards as well
Granny Apples have excellent keeping ability due to there higher acid content means the apples take longer to go brown once sliced
Granny apples make a portable snack; with just 300kJ it has 3.7 grams fibre to fill you up, & provides health-giving phytonutrients
Granny Smith Apples Originated in Australia from a chance seedling grown by Maria Ann Smith in 1868 & soon became a commercial success.

Beneficial to the digestive system & promotes saliva flow & liver health.
Apples are full of:
Flavinoids: antioxidants that help prevent lung & colon cancer & heart disease
Pectin: soluble fibre that helps reduce cholesterol
Fibre: promotes weight loss... a medium apple contains more fibre than most cereals
Boron: a mineral that helps women maintain estrogen during menopause.
We NEVER sell imported apples ever!
If buying more apples than you can eat quickly, store them in a plastic bag in the produce draw of your refrigerator.
Apples can help prevent constipation, improve lung function, & lower the risk of heart disease.
The fibre contained in apples is vital in preventing cholesterol reabsorption.
Add a grated apple to your next batch of bran muffins to keep them moist
Add an apple to casseroles to add depth of flavour & a hint of sweetness
A compound known as quercetin is found in apples, which are broken down by the body & helps prevent chronic inflammation that results in the thickening of the arteries, blood clotting in the arteries etc... Thus decreasing the risk of heart disease.
You cannot over eat them & studies show that enjoying an apple between a meal decreases total calorie intake at that meal.
Natures perfect weight loss food are apples.
Eat them raw, sprinkled with cinnamon or baked as a seasonal treat.
Research published in the Journal Frontiers in Microbiology.
The researchers tested all of the parts of the apple including the skin, stem, flesh, peel, seeds & calyx, which is the fluffy bit at the bottom where the flower used to be.
They found that if you ate a whole 240g apple, seeds & all, you'd ingesting about 100 million bactaria. Most of us don't actually eat the core, so our intake would fall to a mere 10 million bacteria.
Although still in it's infancy, research around gut microbiome is showing that the richer & more diverse the community of microbes you have in your gut, the lower your risk of disease & allergies may be.
However the old wives tale an apple a day keeps the doctors away might be true after all, thanks to the apple being such a great home to millions of delicious bacteria.
Click Here:
Nutrition Information
Serving size: 1 apple - 130g
| | Avg Quantity per serving | Avg Quantity per 100g |
| --- | --- | --- |
| Energy (kJ/Cal) | 277/66 | 213/51 |
| Protein (g) | 0.3 | 0.2 |
| Fat, total (g) | 0.4 | 0.3 |
| - saturated (g) | 0.02 | 0.02 |
| carbohydrate (g) | 13.9 | 10.7 |
| - sugars (g) | 13.5 | 10.4 |
| Fibre (g) | 2.7 | 2.0 |
| Sodium (mg) | 0 | 0 |
| Vitamin C (mg) | 5 | 5 |
Source: The Concise New Zealand Food Composition Tables, 12th Edition, Plant & Food Research
2018
Write a review
Note:
HTML is not translated!