Sale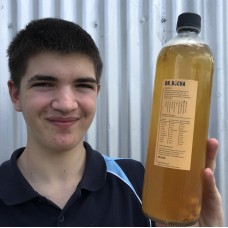 zoom
Price:
$12.50
$12.00
Ex Tax: $10.43
Product Code:
GKombuchaGINGER
Availability:
In Stock

0 reviews
Write a review
Dr Bucha - It's Alive! - "Bursting with gut-loving probiotic goodness!"
Dr Bucha's handcrafted Kombucha made fresh every week, right here in Katikati.
Currently, Dr Bucha is making over 500 bottles a week to make sure our customers/stockists & friends enjoy the taste of good Kombucha!
Our difference? Dr Bucha uses real fruit pieces sourced locally or grown here on our lifestyle property.
There is nothing artificial as we leave nature to deliver beautiful flavours & natural sparkle.
The Only Ingredients:
Black tea
White sugar
Filtered Water
Real fruit pieces e.g grated ginger
What is Kombucha?
The short answer is - fermented tea.
Nothing scary to see here.
Kombucha can be intimidating at first, however, this drink is not just for hippies anymore!
Why drink kombucha?
Kombucha is known for its 12 strains of probiotics (good bacteria).
Kombucha is rich in friendly yeast & bacteria as well as organic acids such as acetic & ascorbic acids.
It also contains enzymes, amino acids, antioxidants called polyphenols as well as B1, B6 & B12.
These account for its reputation for helping with digestion, stimulating metabolism & deterring infections.
Some of our customers say they get an energy boost!
Our Values:
We create New Drink Experiences - We aim to open minds to new healthy ways of enjoying your favourite cold beverage.
We work hard until the job is done right - Even if it means we are up till 2 am in the morning brewing!
We keep it local - Keep it NZ made - We go out of our way to buy local ingredients & supplies NZ made.
We use locally sourced ingredients - We support locals - We use the freshest, spray-free (wherever possible) organic, spices & herbs to flavour our drinks.
We reduce, reuse & recycle - All our bottles are glass.
We offer an optional bottle return.
We are focused on lessening our impact on the environment & reducing waste throughout our entire manufacturing & distribution process.
Must know...
Please keep the kombucha chilled (fridge) before and while you drink it. (It can stay out of the fridge for no longer then 24hours)
Keep the lid on tight.
Best served cold or on ice.
The longer you leave kombucha unopened the more it ferments - it feeds on the tea and sugar. This can mean it can become fizzy. The fridge slows down this process.
Write a review
Note:
HTML is not translated!