Sale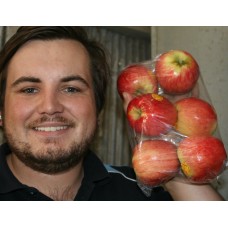 zoom
Price:
$7.30
$7.00
Ex Tax: $6.09
Brand:
Jazz Apples
Product Code:
FAppleJAZZORGANIC15KG
Availability:
In Stock

0 reviews
Write a review
Biogro Cerified Organic
NZ-BIO-003 (93294)
Scientifically proven to be the world's crunchiest apple.
Tangy-Sweet, Crunchy & Crisp
Put away the peeler & eat your apples with peel intact.

Apple peel may impart health benefits when consumed & should be regarded as a valuable source of antioxidants
Jazz™ (variety name Scifresh) emerges from a fertile collaboration
between apple marketer ENZA, orchardists, & New Zealand Plant & Food Research who run the world's leading apple programme.


A team led by Allan White worked to produce an apple with the world's best texture & flavour while retaining satisfying juiciness & enticing colour.
So what makes Jazz™ so good?

CRUNCH – Jazz™ is the loudest apple on record.* Feel the Bite! Every chomp brings satisfaction to the ears.

COLOUR – This is one handsome apple. It's quality radiates from the shelf without the need for beauty aids.

TASTE – First time eaters stop in their tracks after tasting the tangy-sweet bite of a Jazz™ apple & savouring the lingering, lucious aftertaste!

ZING – More acid than sugar, the tangy-sweet, juicy crunch, cleanses & refreshes the pallet & sharpens the mind.

SIZE – Jazz™ is the perfect size for a satisfying fruit snack. Not too big, not too small. No waste - just taste.

CONSISTENCY – Dense & firm, Jazz™ stays harder for longer. Put it in the fridge, on a kitchen bench or in a lunch box & watch it stay delicious and tempting for weeks.
Grown & harvested in the Hawkes Bay.
Apples are a great source of fibre, which helps to keep your teeth & gums clean & slows down the digestion process, keeping you feeling full for longer!
Beneficial to the digestive system, promotes Saliva & Liver health
Leave the skins on... this is where most of the nutrients are stored in apples
If buying more apples than you can eat quickly, store them in a plastic bag in the produce draw of your refrigerator.
Apples can help prevent constipation, improve lung function, & lower the risk of heart disease.
An apple a day gives you great skin... they are rich in antioxidants
We NEVER sell imported apples ever!
The fibre contained in apples is vital in preventing cholesterol reabsorption.
The reason for not growing organically is that, for apples, we think it's worse for the environment than what we do now.
The organic guys spray two-three times as often as we do.
Those with home gardens will know that compounds like copper can be very useful.
Copper is a natural organic compound but it's also a heavy metal that is highly toxic to humans & extremely persistent in the soil.
If I grew apples in a desert climate, like say Argentina, I think I might do it organically.
Our benign climate means we grow everything well, including pests & diseases, so organics in apples is a real challenge for now.
A compound known as quercetin is found in apples, which are broken down by the body & helps prevent chronic inflammation that results in the thickening of the arteries, blood clotting in the arteries etc... Thus decreasing the risk of heart disease.
You cannot over eat them & studies show that enjoying an apple between a meal decreases total calorie intake at that meal.
Natures perfect weight loss food are apples.
Eat them raw, sprinkled with cinnamon or baked as a seasonal treat.
Research published in the Journal Frontiers in Microbiology.
The researchers tested all of the parts of the apple including the skin, stem, flesh, peel, seeds & calyx, which is the fluffy bit at the bottom where the flower used to be.
They found that if you ate a whole 240g apple, seeds & all, you'd ingesting about 100 million bactaria. Most of us don't actually eat the core, so our intake would fall to a mere 10 million bacteria.
Although still in it's infancy, research around gut microbiome is showing that the richer & more diverse the community of microbes you have in your gut, the lower your risk of disease & allergies may be.
However the old wives tale an apple a day keeps the doctors away might be true after all, thanks to the apple being such a great home to millions of delicious bacteria.
---
Click Here:
Apple Recipes
Nutrition Information
Serving size: 1 apple - 130g
| | Avg Quantity per serving | Avg Quantity per 100g |
| --- | --- | --- |
| Energy (kJ/Cal) | 277/66 | 213/51 |
| Protein (g) | 0.3 | 0.2 |
| Fat, total (g) | 0.4 | 0.3 |
| - saturated (g) | 0.02 | 0.02 |
| carbohydrate (g) | 13.9 | 10.7 |
| - sugars (g) | 13.5 | 10.4 |
| Fibre (g) | 2.7 | 2.0 |
| Sodium (mg) | 0 | 0 |
| Vitamin C (mg) | 5 | 5 |
Source: The Concise New Zealand Food Composition Tables, 12th Edition, Plant & Food Research
2018
Write a review
Note:
HTML is not translated!