Sale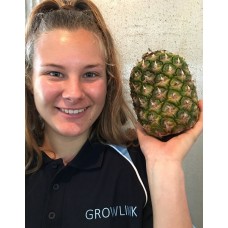 zoom
Price:
$4.00
$3.90
Ex Tax: $3.39
Product Code:
FPineapple
Availability:
In Stock

1 reviews
Write a review
Sweet & juicy, pineapples are rich in vitamin C & an excellent source of fibre... the ultimate sweet treat.
Pineapple, a delicious tropical fruit, has been celebrated for centuries not only for its unique taste but also for its miraculous health benefits.
The health & medicinal benefits of pineapple include boosting the immune system, respiratory health, aiding digestion, strengthening bones, reducing inflammation, curing coughs & colds, & weight loss.
Fresh Pineapples are the only known source of bromelain, an enzyme that research shows has anti-inflammatory properties that may alleviate symptoms of osteoarthritis.
Dust pineapple wedges with cinnamon & then barbeque for a sweet end to a meal
Preparing
You will need a sharp knife & a chopping board to prepare your pineapple. There are many ways to cut a pineapple but this is how we like to do it:
Write a review
Note:
HTML is not translated!