Sale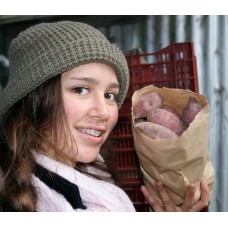 zoom
Price:
$5.30
$5.00
Ex Tax: $4.35

0 reviews
Write a review
Kumara skin has a special sort of fibre which has a protective role against cancer, so leave the skins on when possible.
Kumaras are versatile, can be baked or stuffed as you would potatoes.
Store in a warm place - not the fridge.
Can be boiled, steamed, mashed, in soups, stir frys, on barbeques, or in pies or quiches.
Food experts around the world agree kumara is jam-packed with health benefits.
Kumara is a good-health heavyweight packed with anti-oxidants, vitamin E and beta carotene - all of them champions in the fight against cancer. Its high fibre assists cleansing & controlling food intake by helping you feel full. Its low Glycemic Index (GI) enables you to enjoy sustained energy levels.
A study in the United States showed that the nutritional value of kumara with its fibre, complex carbohydrates, protein, Vitamins A, C & E, iron and potassium achieved a score of 184 – outstripping its nearest rival by a full 100 points!
Virtually Fat-Free
Kumara is the 7th most popular vegetable in New Zealand.
TO BAKE
Prick the skin & place in 180ºC oven & bake for 45 to 50 minutes.
TO MICROWAVE
Prick kumara & cook on high, turning each kumara halfway through cooking time. Remove when cooked, wrap in foil & allow to rest for at least 5 minutes. Cooking times:
• 1 medium: 3-4 minutes
• 2 medium: 5-6 minutes
• 3 medium: 7-8 minutes
• 4 medium: 8-9 minutes
And try any combination of these toppings: pineapple pieces, oranges, nuts, apple pieces, dates, grated cheese. Delicious if drizzled with orange juice.
TO FRENCH FRY
Boil for 10 minutes, peel & cut into strips. Heat oil & cook until golden. Drain on paper towel. Sprinkle with brown sugar, salt or nutmeg.
TO TOAST
Cut into 1cm thick slices. Brush each side lightly with olive oil. Season with salt & pepper if desired. Place the slices on a baking sheet & bake in a preheated oven for 15 minutes. Turn the 'chips' until both sides are lightly toasted.
TO MASH
Place whole unpeeled kumara in boiling water & cook 35-45 minutes. Drain, peel & mash.
TO STIR FRY
In a shallow pan, heat vegetable oil & add kumara strips. Saute for 5 minutes or until brown & tender. Remove from hot oil & drain on paper towels. Sprinkle with salt or sugar.
TO BARBEQUE GRILL
Wrap medium-size kumara individually in heavy duty aluminum foil. Place on the grill & cook for about 45 minutes or until tender. To hasten, boil 10 minutes before wrapping in foil.
TO BARBEQUE
Wrap medium size kumara in heavy duty foil & place in the coals for about 45 minutes or until tender. To hasten, boil 10 minutes before wrapping.
The natural long shelf life of Kumara is because they are self preserving through the natural process of converting starch into sugar. Long life is extended because kumara has a perfectly natural ability to heal itself if damaged, for example being skinned, cut or bruised during the harvesting process.

The huge health supporting values of the kumara together with its naturally very long life means that it has to be the single best vegetable for any family. It is a vegetable with substance.
Heart Friendly: Cholesterol free, virtually fat-free and VERY low in sodium (salt)

Keeps you vital: A good source of vitamins A, B6, C, E & other essential nutrients such as calcium for bone health, iron for healthy blood & potassium which regulates both overall body fluid levels & blood pressure. Eat kumara to give your system excellent nutritional support.

Keeps you clean: With more dietary fibre than Oatmeal, kumara is an excellent means to ensure your digestive tract remains naturally cleansed and healthy.

Actively fights health risks: The best defence is offence & kumara is loaded with anti-oxidants that take the fight to the free-radicals; known triggers of cell deformity including cancers.

Delivers sustained energy: Kumara, with 100 calories per 100g latent energy delivered as Starchy Carbohydrates, convert sugar, which could go into storage (fat), into energy. Its Low GI Rating means its slow-release energy – the best type and ideal for sustained activity.
For a twist on shepherd's or cottage pie, replace the traditional mashed potato topping with mashed kumara. For extra flavouring add crushed citrus rind, herbs, or finely chopped ginger.

Kumara adds sweetness and bulk to soups & curries, & works especially well with Thai & Indian flavours.

Make a creamy soup in a flash by cooking a chopped onion in a pot with a little olive oil. Add chopped kumara, carrot & ginger.
Add enough chicken or vegetable stock to cover the vegetables. Bring to the boil, reduce heat & simmer until cooked.
Puree with a stick blender.
Serve with a dollop of Greek yoghurt.
Kumaras love warm & spicy flavours... flavour with allspice, nutmeg, cloves, cinnamon, garlic, ginger, red pepper flakes, paprika, thyme & sage.
---
Click Here:
Kumara and Pumpkin Bake Recipe
Nutrition Information
Serving size: 1 kumara 150g
Average
Quantity
per serving
% Daily
intake per
serve
Average
Quantity
per 100g
Energy (kJ/Cal)
545/130
6%
363/87
Protein (g)
1.9
4%
1.3
Fat, total (g)
0.3
0%
0.06
- saturated (g)
0.09
0%
0.06
Carbohydrate (g)
28.2
9%
18.8
- sugars (g)
7.8
9%
5.2
Dietary fibre (g)
2.7
9%
1.8
Contains dietary fibre
Sodium (mg)
42
2%
28
Niacin (mg)
4
40% RDI*
2.7
A good source of niacin
Vitamin C (mg)
48
121% RDI*
32
A source of vitamin C
Potassium (mg)
759
506
Contains potassium
Vitamin B6 (mg)
4
2% RDI*
0.11
Iron (mg)
0.8
7% RDI*
0.5
Riboflavin (mg)
0.11
6% RDI*
0.07
Vitamin A Equiv. (µg)
29
4% RDI*
20
Vitamin E (mg)
0.3
3% RDI*
0.2
Calcium (mg)
24
3% RDI*
16
Zinc (mg)
0.3
3% RDI*
0.2
Folate (µg)
4
2% RDI*
3
Selenium (µg)
0.2
0% RDI*
0.1
Thiamin (mg)
0.15
14% RDI*
0.1
Percentage Daily Intakes are based on an average adult diet of 8700 kJ
Your daily Intakes may be higher or lower depending on your energy needs.
*Recommended Dietary Intake (Average Adult)
Source: The Concise New Zealand Food Composition Tables, 12th Edition, Plant & Food Research - 2018
Write a review
Note:
HTML is not translated!