Sale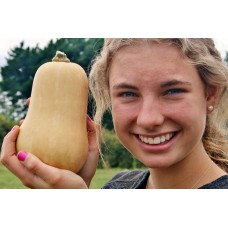 zoom
Price:
$3.80
$3.50
Ex Tax: $3.04

0 reviews
Write a review
Butternuts have a smooth texture, sweet & nutty taste... delicious & nutritious
Butternut is great raw - sliced thinly & marinated... its also great roasted with toasted almonds & or crumbled Amaretti biscuits on top
Butternut squash seeds are packed with energy as they contain around 35-40% oil & 30% protein.
Butternut seeds can be roasted for a protein packed inexpensive snack.
Butternuts are thin skinned... can be cooked with the skin on
Butternut are shaped like a pear
Butternuts are low in fat & high in vitamins, with ample dose of dietary fibre
Butternuts contain the mineral nutrient magnesium which is necessary for the functioning of the nervous system & muscles & needed for normal bones & teeth
Butternut grows well in a sunny, well-drained position on a vine.
Store in a cool dry & dark place, when cut store in the refridgerator
Click Here:
Mushroom & Butternut Frittata
Nutrition Information:
Percentage Daily Intakes are based on an average adult diet of 8700 kJ
Your daily Intakes may be higher or lower depending on your energy needs.
*Recommended Dietary Intake (Average Adult)
**Estimated Safe and Adequate Daily Dietary Intake
Source: The Concise New Zealand Food Composition Tables, 12th Edition, Plant & Food Research 2018
Write a review
Note:
HTML is not translated!