Sale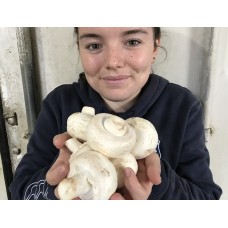 zoom
Price:
$4.80
$4.50
Ex Tax: $3.91
Product Code:
VMushroomBAG
Availability:
In Stock

0 reviews
Write a review
Mushrooms add flavour to many dishes... very versatile & popular...
Can be used with meat, in soups, sauces, on pizzas, in casseroles, in stir-fries, in omelettes, in pies & salads...they can be used whole, sliced or quartered.
Refridgerate in a paper bag.
Mushrooms are the 4th most popular vegetable in New Zealand.
Small white mushrooms with a mild flavour
Mushrooms are a healthy source of Selenuim, Phosphorous & Potassium - essential minerals for brain development in young children.

4-5 Button mushrooms provide 0 grams of fat & 18 calories.

Mushrooms help improve Immune function, lowering risk of cancer & heart disease

Got brain fade? The biotin, niacin, pantothenic acid, riboflavin, copper & potassium found in mushrooms are important in keeping your nervous system functioning properly & assisting with neurological function, mental performance & psychological development.

Big words, but basically it helps your brain & nervous system function normally.

Selenium helps maintain normal hair & nails, & is necessary for normal immune function in the human body.
Mushrooms are a rich source of ergothioneine, an antioxidant that may help fight cancer
Mushrooms are alsoa source of riboflavin, a vitamin that supports the body's natural detoxification mechanisms
They are the highest vegan source of Vitamin D
With many of the nutritional attributes of vegetables, mushrooms also provide those nutrients more commonly found in meat, beans & grains
Mushrooms are low in calories & carbohydrates, fat-free, cholesterol-free, gluten-free, & very low in sodium,yet they provide important nutrients, including selenium, potassium, riboflavin, niacin, vitamin D & more.
It's obvious why they are classed as one of the top superfoods.
Don't wash your mushrooms before you store them. They will go all slimy.

Keep your mushrooms in a paper bag or air tight container.

This reduces air flow & moisture so they'll last longer.

Pop them in the salad drawer in your fridge.

It may have several settings, check for the one with the mushroom symbol.

Try not to put anything on top of them, mushrooms bruise easily.
It doesn't make them taste any different, they just look odd.

You can also freeze mushrooms.

Arrange them in a single layer on a tray & pop them in the freezer.

There's no need to peel your mushrooms.

Just like other vegetables, a lot of the goodness lies in the outer layer.

Don't discard the stalks – these are just as nutritious as the mushroom caps.

You can always freeze the stalks for use in soups if you don't want them in your dish.

Depending on your dish, you can then serve them whole, quarter, slice or dice them.
Mushrooms are very versatile & will add flavour to many dishes.
Mushrooms can be used with meat, in soups, sauces, braises, stews, stir fries, omelettes, pies, salads & on pizzas.
Can be microwaved, barbecued, stir fried, baked, grilled, fried or poached.
Serve them raw with a dip or in salads.
Julia & Libby eating for health - Mushrooms

Mushroom Recipes
Nutrition Information
Serving size: 1 cup sliced 108 g
Average
Quantity
per serving
% Daily
intake per
serve
Average
Quantity
per 100g
Energy (kJ/Cal)
78/19
1%
72/17
Protein (g)
2.3
5%
2.2
Fat, total (g)
0.3
0%
0.3
- saturated (g)
0.03
0%
0.03
Carbohydrate (g)
0.8
0%
0.7
- sugars (g)
0.6
1%
0.6
Dietary fibre (g)
1.7
6%
1.6
Sodium (mg)
4
0%
4
Niacin (mg)
5.4
54% RDI*
5.0
A source of niacin
Vitamin B6 (mg)
0.24
15% RDI*
0.22
A source of vitamin B6
Potassium (mg)
400
370
Contains potassium
Selenium (µg)
21.3
30% RDI*
19.7
Riboflavin (mg)
0.59
35% RDI*
0.6

Percentage Daily Intakes are based on an average adult diet of 8700 kJ
Your daily Intakes may be higher or lower depending on your energy needs.
*Recommended Dietary Intake (Average Adult)

Source: The Concise New Zealand Food Composition Tables, 12th Edition, Plant & Food Research - 2018
Write a review
Note:
HTML is not translated!