Sale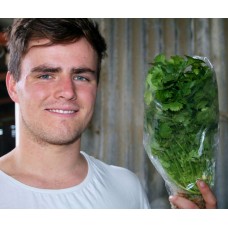 zoom
Price:
$4.80
$4.50
Ex Tax: $3.91

0 reviews
Write a review
Fragrant flavour that is reminisent of both citrus peel & sage.
The lacy, feathery foliage of coriander has a unique scent, penetrating & lively with slightly bitter leaves.
Indispensible ingredient of Chinese, Thai & Mexican cuisine
Coriander helps with treatment of skin inflammation, high cholesterol levels, & digestion.
Coriander is called cilantro in America.
Coriander has antiseptic & antifungal properties & is high in antioxidants.
Coriander has a strong, fresh taste which will give a big boost to flavour to meals without having to add much fat or salt.
Add coriander to juices & smoothies for a boost of vitamins A, C & K
Use as a green in sandwiches, tacos or burgers.
Chop into savoury muffin, scone or quiche recipes.
Blitz ( in combination with parsley & mint leaves ) into salsa verdo or pesto.
Add handfuls into casseroles & chicken or fish broths at the end of cooking, just to wilt.
All parts of coriander are edible, but the fresh leaves & the dried seeds are the parts most traditionally used in cooking.
Fresh leaves of Coriander are used in many Indian foods including chutneys.
Coriander is especially good in salsa & guacamole, used as garnish & in Asian-style salads with fruits,such as pears, nashi & mangoes.

Direct from our Katikati Grower
Write a review
Note:
HTML is not translated!