Sale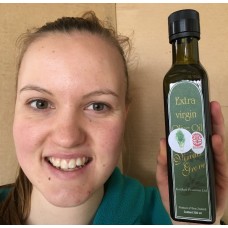 zoom
Price:
$21.50
$21.00
Ex Tax: $18.26

0 reviews
Write a review
The olive oil is infused with Fennel grown at Viridis Grove.
Fennel flowers give the oil a soft background flavour, while the seed dominates with it's liquorice-like nature.
Perfect for enhancing the flavour & aroma of your favourite roast or marinade.
Good to use with fish & vegetable roasts.
No preservatives
No artifial colours
No animal products
Low acidity
Dairy free
Gluten free
---
Viridis Grove extra virgin Olive Oils are fresh, beautifully balanced & flavoursome.
The olives are grown on a fully Demeter Biodynamic Certified property in boutique groves in clean, green Katikati.
Extra Virgin Olive Oils contain anti-oxidants, monounsaturated fats, vitamins & amino acids that lower the risks of many diseases & aids a balanced diet.
Splash liberally to seduce salads, bread, sauces, friends, chargrills... whatever!
Store in a cool, dry place out of heat & direct sunlight.
DO NOT Refrigerate
For best taste & health properties, use the oil within four months of opening.
Servings per pack: 50

Serving size (average): 5ml

Quantity Per 100ml

Quantity Per Serving

ENERGY


3446kj
(824kcal)

172kj
(41kcal)

PROTEIN

0g

0g

FAT - TOTAL
- SATURATED
- TRANS FATTY ACIDS
- POLYUNSATURATED
- MONOUNSATURATED

91.5g
12.8g
0g
8.2g
70.5g

4.6g
0.6g
0g
0.4g
3.6g

CHOLESTEROL

0g

0g

CARBOHYDRATES
- SUGARS

0g
0g

0g
0g

SODIUM

0g

0g
Write a review
Note:
HTML is not translated!